Arabian Oasis Al Wasam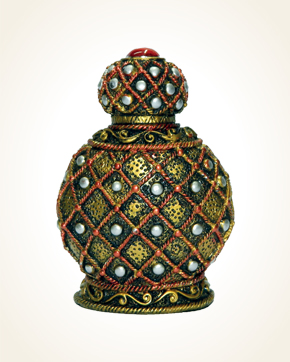 Arabian Oasis Al Wasam
Concentrated Perfume Oil 12 ml
Out Of Stock
Concentrated Perfume Oil Sample 0.5 ml
Out Of Stock
Description
Pineapple, lemon and passion fruit along with the softly spiced amber and patchouli come to introduce you to a world of fairy tales and mysterious stories from far away landscapes.
Step on your toes and gently, just as the black musk with vanilla gently adds, bringing with you cherry and raspberry nectar for your dream contemplation with this sensual perfume.
The deep-sounding tones of oud oil wrap the scent in even more eerie echoes, when the infiltration of rare trees and fruit creates an unusually sounding fragrant touch.

Customer Reviews (6)
Dear ladies from Anabis, last time I took two CPOs from you - NASEEM DALIYA - my heartbeat ordered for the second time and ARABIAN OASIS AL WASAM - beautifully balanced scent, which has a truly fantastic stamina and I can not distinguish it :-). At first I perceive mainly fruit, juicy, ripe, with ambergris and rare woods. I apply a drop to the neckline, the smell flows right under my nose and improves mood all day. For Mrs. Jana - husband Al Wasam does not provoke nose creasing at all :-) I got "permission" from him to wish for Christmas KHADLAJ ANA WA ANTA, the smell that appealed to me, but I'm still not sure if it fits me. When I tried the formula and asked the man what he felt, he replied "leather belt of sweaty Mongolian herdsman" :-D Which was meant as praise, this smell was the most pleasant (together with RASASI RABWA) of all the formulas I tested at that time. Finally, I would like to thank you very much for your willingness to hold my order for the duration of my illness. Beautiful Indian summer wishes (1.10.2019 - Eva P.)

Al Wasam - so many times this fragrance has "gone" .. but now I have it at home. Mysterious night, the sensuality of the sounds that accompany the thunder and the brilliant lightning from the coming storm, the tension, the passion, and the smooth trace of fruit, the deep tones of the trees, oh ... I already knew the smell's expectations from the formulas, and here it is ... really with all the trimmings and even more, dark cherries with oud and musk ... oh yes yes, it's wonderful ... thank you (27.11.2018 - Iva K .)

Al Wasam, this is another treasure in a beautiful bottle. He's not as juicy as I expected. The pineapple is obvious, but amber and a patch of patchouli will immediately cover my skin. I perceive cherries only gently, dark, overripe, shrouded in a cloud of musk and vanilla dust. Let it be summer! When I study Arabic fruity scents, I always see in the glare of the sun's rays with flowers in my hair, my fingers sink into the sand and my ankles wash off my sea waves. (3/4/17 - Lenka S.)

Al Wasam - I identified pineapple immediately. Faithful, just peeled and sliced into a saucer, next to which in the vase on the table it smells a multicolored freesia, and from the hot tea is the scent of bathing fresh slices of lemon. With time it sits in sweeter positions, but the pineapple still dominates. If it was not inappropriate, I would write - yummy. : D (29/06/2013 - Simona J.)

So another addition, I'm dependent on your scents. I like the feeling that I smell different than the others. And I also like flacons of oriental fragrances, they are show pieces. Fruity fragrances I probably did not have to meet with you, but in oriental presentation are somehow different, so full, something like juice from the box and fresh somewhere by the sea, so it is with Wasam, it is opulent fragrance of fruit lure interwoven with vanilla and musk. (02/05/2013 - Patricie B.)

Al Wasam is a wonderful fragrance and I'm glad she is finally mine, this beautiful black cherry in musk, it is nowhere to be seen. And for her stamina I am happy, with such a cheap smell I did not expect. Flakonek gem too. (07/06/2012 - Dana N.)

Have you tried one of our perfumes?
Let us know
how you like it!
You might also like