Al Rehab French Coffee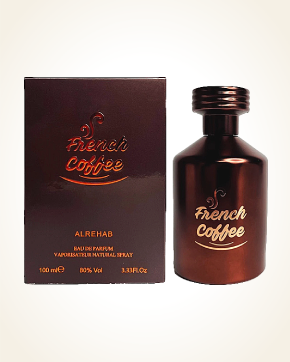 Al Rehab French Coffee
Eau de Parfum 100 ml
In Stock
Eau de Parfum Sample 1 ml
In Stock
Description
French Coffee - hiding its seductively gourmet content in a metallic brown bottle, as the name suggests, will seduce and enchant you with coffee.
Magical French Coffee does not present us black and bitter coffee, but gourmet coffee - such a "delicious" cappuccino, with a large layer of milk foam, decorated with cocoa and a pinch of cinnamon. On a plate with added almonds in dark chocolate, for that sinful feeling and delicious enjoyment.
Echoes of sweet vanilla and a few lumps of caramelized sugar at the end also add to the coffee aroma.

Customer Reviews (4)
Al Rehab French Coffee - it's a wonderful cuddly aroma, a light caramel latte with whipped milk foam and a pinch of coconut. Beautiful ... thank you very much .. You really don't know which scent to buy before ... :-) Thank you very much and have a nice day (26.05.2022 - Romana V.)

I'm blown away by the smell of French Coffee. It smells like a warm sweet latte! I preferred to order a sample, because in most Arabic perfumes, something bothers me, but this is absolutely beautiful! If you like Soft, don't hesitate, French Coffee will be thrilled! Amazingly gourmet scent. I also want to thank Anabisa for her beautiful scents, wonderful service and immense willingness. Your fragrant packages make our lives happier. (23/12/2021 - Petra N.)

French Coffee - what is it like? When I saw her in the news, she impressed me. I don't really want to smell like coffee ?! But my colleague and I made an order and the sample fell there as a gift .... well, and that's where it started ... so - a very, but really very sweet sweet creamy cappuccino scent, which is not unpleasant on the skin, on the contrary, creates a feeling of good mood and that how coffee connects with you creates a completely unique experience. It's like when I used to come to a friend's house in a big family house, where an insane amount of candy was baked for maybe her whole family ... she came to open it for me and went with her that wonderful and at the same time warmly happy scent of that candy , this is how I perceive it with French Coffee perfume. Of course, I had to order a full package, and when I smell it, I have to be in a better mood right away - that scent is my second skin and charms somewhere in the "depths" of your fragrant memories and shows a better day. Thank you, and may your days - all of you in the fragrant kingdom of Anabis, be as warm and happy as you are to us - thank you. (12/13/2021 - Iva K.)

Good evening, Mrs. Wech, I would like to thank you very much for the package that arrived today. So far, I've opened 3 perfumes, but I have to say I can't get enough of Pure musk and that French Coffee, they're just divine. Kalimat is also amazing, it smells wonderful. The others are at Christmas, so they're hidden. That coffee exceeded my expectations. I couldn't imagine how it would smell, but the scent, just divine. I wish you a beautiful evening and so on with such beautiful scents. Health (06.12.2021 - Peťa Š. With mother)

Have you tried one of our perfumes?
Let us know
how you like it!
You might also like