Al Haramain Million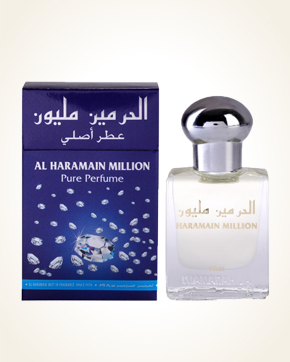 Al Haramain Million
Concentrated Perfume Oil 15 ml
In Stock
Concentrated Perfume Oil Sample 0.5 ml
In Stock
Description
The delicious, exotic-scented mango along with the aromatic plum let into its gourmet tones with a whipped smooth vanilla. Gourmet tones are replaced by a fresh breath of citrus bergamot with a gentle cloud of musk.
Floral touches indicate a line of fragility in which they blend, petals of May rose, tiny flowers of jasmine and creamy ylang - ylang.
A slightly woody embrace shows us cedar with sandalwood, to which lazily the softness of the ambergris stretches lazily.

Customer Reviews (1)
Al Haramain Million. After ordering the sample, I put it off uninterestingly. Well, once I used it for work and the scent stayed with me for a long time. Feel the mango in the lead role with a plump and finish it with vanilla. No glue is light and fresh. The name is already a surprise. Thank you. (09/18/2020 - Dominika J.)

Have you tried one of our perfumes?
Let us know
how you like it!
You might also like