Al Fakhar Najoom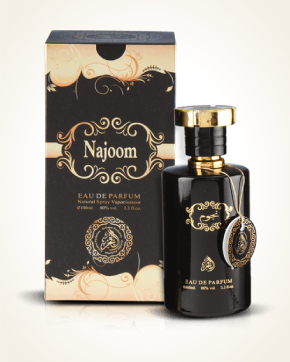 Al Fakhar Najoom
Eau de Parfum 100 ml
In Stock
Eau de Parfum Sample 1 ml
In Stock
Description
Smooth, seductively honey, deeply saturated - this is the sovereign amber, which enchants with its nuances throughout the fragrant score Najoom.
Accept her invitation to an oriental meeting and let yourself be carried away by the softly smooth tones, to which a mysterious oud essential oil is added together with a creamy whipped cream of deliciously sweet apricots and sinful chocolate with vanilla.
Other rare woody plants also enter the corners of the sensually tame oud, with an emphasis on the soft-sounding sandalwood.
Amber's touches once again show how pleasantly the soft velvet spreads out and seduces us to smell more and more, this time with a symphony composed of a rose from Taif, leaving its mark in another score, written with the lightness of a clump of musk.

Customer Reviews (3)
AL FAKHAR NAJOOM,, the whole fragrance blends beautifully with apricot, I don't detect chocolate, a little rose, a little ambergris, but on my skin a sweet, at the same time sour apricot, just an apricot scent, the other components just blend easily, on me and on my skin Apricot really plays a role, and this fragrance cannot be denied its interest, you just won't come across this fragrance, a very interesting act, an absolutely unremarkable fragrance for the nose. I am attracted by the otherness, the interestingness. It worked, I've had Arabic fragrances for years and I love using them, but I haven't smelled this before, the scent is simply different. (19/01/2023 - Kateřina M.)

Najoom from Al Fakhar..this is a wonderful "apricot mousse with cream ...". Amazing for summer and I have great full endurance. It would also be gorgeous as a body mist after a bath on these hot days. I do the evaluation according to the feelings and how I perceive the scent on my skin, I learn to understand Arabic perfumes, I completely fell for them and I'm happy to read your reviews that I'm not alone in it :-D. One pattern on the left wrist, one on the right and I'm going to sleep. Nose buried in my hand. Gems. (22.06.2022 - Bronislava Č.)

Absolutely perfect symphonic poem in a perfume bottle! At the beginning, the aroma is beautifully apricot-sweet, but after a while, amber gives the dense chocolate depth and oud with vanilla woodiness, which creates such a mysterious aura around the wearer. Beautiful connection, moreover, the perfume lasts for me personally for a really long time, even after the whole day, I can still feel it around me. Definitely love at first scent! (09/17/2021 - Anna Z.)

Have you tried one of our perfumes?
Let us know
how you like it!
You might also like