Ajmal Sacrifice for Her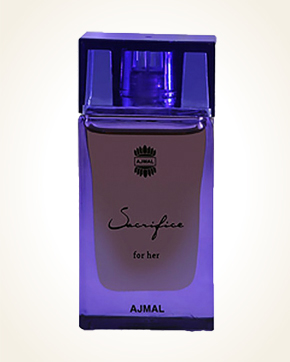 Ajmal Sacrifice for Her
Concentrated Perfume Oil 10 ml
In Stock
Concentrated Perfume Oil Sample 0.5 ml
In Stock
Description
The intoxicating caress of tiny flowers of white-blooming jasmine combines its intoxication with the fragrant grandeur of true ambergris.
Other chords include the delicious tones of vanilla with the fluffy fragility of orange flowers.
The romance of shimmering water is enhanced by the sensuality of the seductive musk.
Let the perfume light up with the passion of magically folded fragrance ingredients and enjoy the moments of enchanting fragrance.
The fragrance is made of perfume oil and is applied directly from the flask, for example on a finger to smell the smell on your wrist, décolletage, or anywhere on the pulse points.

Customer Reviews (3)
Ajmal Sacrifice is a beautiful fragrance, but unfortunately she did not understand my skin. It took a very long time for me to flow into me, about the first hour I felt only an unpleasant musty. After an hour, jasmine finally came - beautiful, intoxicating, almost the same as in Alien. I gave the smell several chances in different weather, but unfortunately the musty introduction was still there. So I sent the smell away, it just wasn't for me. But I rate it as beautiful and with very good endurance. (04/04/2020 - Romana M.)

Hello Mrs. Lenka I got the smell samples, it is something wonderful first addressed me - AJMAL SACRIFICE FOR HER LIKE ALIENA. The smells are amazing I feel like on holiday in the Arab world :-) I try all the smells, see how they will develop on my skin. Have a great day :-) :-) (22.5.2019 - Adriana V.)

Hello, thank you for the amazing Sacrifice smell in the oil, that's the power. It reminds me very much of the inaccessible Roety. Its intensity and fragrant ingredients are also reminiscent of Alien by T. Mugler, who in some phases has a prickly shade, while Sacrifice is smooth and darkly seducing. It's a very feminine smell and I've already picked up some compliments at work. Thank you and have a nice day (20.5.2018 - Zdena K.)

Have you tried one of our perfumes?
Let us know
how you like it!
You might also like