Rasasi Zodiac Scorpio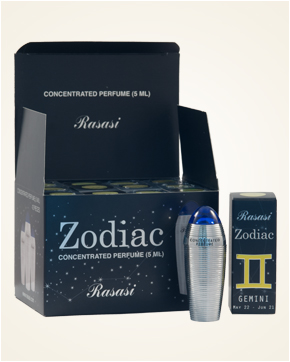 Rasasi Zodiac Scorpio
Concentrated Perfume Oil 5 ml
Out Of Stock
Concentrated Perfume Oil Sample 0.5 ml
Out Of Stock
Notify me when available?
Description
Scorpio (24.10. - 22.11.)

Zodiac Collection is a very beautiful set of 12 oil perfumes, CPO 5 ml, hidden in a small silver case. You can smell different scents for every month's sign.
Fruity tones linked to the African and its strange fragrance from wind anise to sweet-herbal fragrance meet very nicely laid precious trees. Gentle caress comes with orange flowers and an intense bouquet of roses. Woody patchouli shows its beauty with moss and grass. In the end, sweet sandalwood flickers with a pleasant seduction.
Perfume with its bitter tones will be an attractive accessory for both men and women.

Customer Reviews (4)
I already have a beautiful collection of perfumes from Anabis, but I never thought of testing the Zodiac series. One of the Zodiacs made me very happy some time ago and in the last package was the Zodiac Scorpio. Originally it was a gift, but your magnificent perfume made me selfish: -o ... in short, reviews convinced me that it was inevitable to try it and ..... great perfume in a small bottle !!! Beauty! I reminded me of Angel from Mugler, only in a much more luxurious and less sweet version. The moss and herbs give him sexy spruce, dustiness, refinement ... and there is, of course, the synthetic tail. It is not the same as Angel nor significantly similar. Even the composition is totally different, but they have something in common, but what made women crazy from Angel for years ... sensuality ... (Dec 8, 2016 - Lenka S.)

Scorpio Zodiac perfume from Rasasi from the zodiac series reminds me very much of Angel Perfume by Thier Mugler. His fruity tones and sweet herbal scents intrigued me. He is intoxicating, feminine and sexy. I can smell patchouli, sandalwood and incense. Ideal perfume for an evening, for a meeting, just when you want to leave an impression. (20/08/2014 - Blogerky.cz)

One word of beauty. Though there is no scent of my sign, I am captivated by it! Typical oriental - I feel so seductive, sexy in it. I close my eyes and transfer to the Arab Palace, it is a black and black night, only the stars and the moon shine, and I hear mysterious voices. The voices attract me, I am forced to go on ... I hear the Sheepdog, which tells its king the tales of a thousand and one nights. As he longs for more and more stories, I long for this fragrance that will dazzle you and fall in love. (Aug 16, 2014 - Radmila H.)

Licorice with a sweet spicy touch. When I compare it with the generally known liquorice in Lolita Lempicke, this one is lighter and airier. It turns into dry smooth wood, as it smells in full sun in summer. Dry moss, not a branch, but a real sun-dried forest moss. And the "lipstick" iris. Certainly the most remarkable fragrance of the whole Zodiac (6.1.2014 - Dzona)

Have you tried one of our perfumes?
Let us know
how you like it!
Notify me when available?
You might also like