Rasasi Zodiac Sagittarius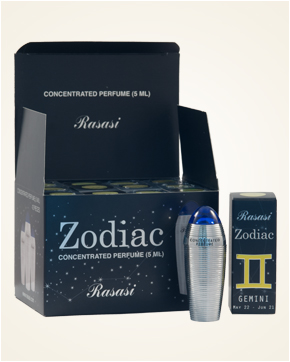 Rasasi Zodiac Sagittarius
Concentrated Perfume Oil 5 ml
Out Of Stock
Concentrated Perfume Oil Sample 0.5 ml
Out Of Stock
Notify me when available?
Description
Sagittarius (23.11. - 21.12.)

Zodiac Collection is a very beautiful set of 12 oil perfumes, CPO 5 ml, hidden in a small silver case. You can smell different scents for every month's sign.
The tangerine lure, placed on the delicate citrus freshness of bergamot, typically combines the intoxicating scent of jasmine. The fruit wave continues with blackcurrants and blackberries. The gentle seductiveness comes with the sensuality of musk, to which is added Moroccan cedar with a sweet woody scent.
Fruit with woody tones brings a fragrant cloud for both men and women.

Customer Reviews (5)
Do you want to always feel that it is summer, you are at the sea, in the shade under the palm is pleasantly fresh from the breeze that brings the smell of jasmine? Then just put a few drops of the shooter on the wooden comb, close your eyes and let yourself be carried away by the heady waves of fragrant fantasy. Sweetly fresh citrus tones float intoxicating jasmine accompanied by a silky lightweight siding of juicy fruit and fluffy musk. A beautiful, charming, feminine fragrance with perfect stamina and a cloud-going space, as well as the memory of a wonderful holiday on Djerba, a jasmine island where Sagittarius unhappily spilled on the ridge. (Oct 9, 2014 - Andrea W.)

... Zodiac Sagittarius and it is true that it reminds me very much of the scent of Givenchy Extravagance. (02/05/2014 - Mili H.)

ZODIAC SAGITTARIUS-here my breath stopped when I put it on my wrist. It smells wonderful and it is not possible to describe it (29.1.2014 - Jarka B.)

I had to keep returning to that scent, I couldn't. First, I had to think about the similarities with Beige Chanel and the differences, and then I just liked it. It smells like a frangipani, fruity, spicy, with prickly honey caps. Simple, airy, yet intoxicating. Very feminine. (Jan 6, 2014 - Dzona)

Sagittarius is beautiful, it reminds me of Givenchy Extravagance d´Amarige. (12/09/2013 - Renée H.)

Have you tried one of our perfumes?
Let us know
how you like it!
Notify me when available?