Rasasi Zodiac Pisces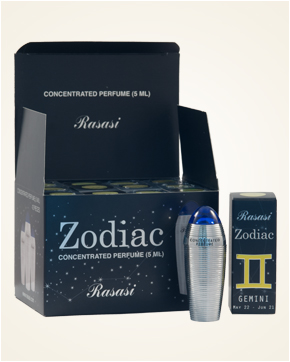 Rasasi Zodiac Pisces
Concentrated Perfume Oil 5 ml
Out Of Stock
Concentrated Perfume Oil Sample 0.5 ml
Out Of Stock
Notify me when available?
Description
Fish (20.2. - 20.3.)

Zodiac Collection is a very beautiful set of 12 oil perfumes, CPO 5 ml, hidden in a small silver case. You can smell different scents for every month's sign.
The combination of precious woods and violets gives an impression of the charming seductiveness of the perfume. The light green tones of grasses, along with the spicy wool headed by nutmeg, coriander, and delicately ginger clove, are an irritating attraction. Sensuality escalates with the clarity of musk embraced with another dose of violet.

Customer Reviews (3)
Hello, I'm surprised by the intense perfume Pisces (pleasantly). It took a while, but I'm "at home" after all, it's "disguised" Fahrenheit :-) :-) great, thank you for gifts and express delivery. (8/28/2015 - Tomas N.)

Pleasant liqueur blend of forest violets with star anise and wind mint. And the memory of Caron Aimez Moi. The ratio of ingredients gradually changes, the flowers recede, increasing vetiver and dry sweet grass with bitterness of the skin. Unisex fragrance, very wearable for ladies and gentlemen. (6.1.2014 - Dzona)

So my fish :-) Violin in the lead role. In the beginning a fresh green glade in the forest with tiny flowers with a fragrant spice flavor. Over time, dominant violets soften, sweeten into slightly acidic sweets, so that they eventually become fluffy musk-dusted ever-sparking violets. The transformation from forest treperend to violet in flask in an elegant lady's handbag took about 3 hours, as well as the stage of sweetness from about no (violet fragrances do not take me particularly) to certainly yes thanks to luxury perfume distribution. The oil has excellent stamina, after 12 hours it keeps telling itself when the fragrant composition has become a delicate, clear musk that clings to the body. Regardless of the sign, I recommend to try all fans of violet fragrances. What makes this aroma characteristic of fish? It invites you to dream and shows two violet positions, like the ones that swim against each other to meet in a romantic center. (2/11/2013 - Andrea Ž.)

Have you tried one of our perfumes?
Let us know
how you like it!
Notify me when available?