Rasasi Zodiac Leo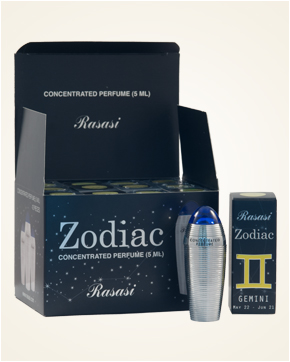 Rasasi Zodiac Leo
Concentrated Perfume Oil 5 ml
Out Of Stock
Concentrated Perfume Oil Sample 0.5 ml
Out Of Stock
Notify me when available?
Description
Lion (23.7. - 22.8.)

Zodiac Collection is a very beautiful set of 12 oil perfumes, CPO 5 ml, hidden in a small silver case. You can smell different scents for every month's sign.
The citrus lure of fully ripe mandarins, juicy red oranges and pleasantly bitter grapefruits spread out in the sensual seduction of musk. Floral tones in the form of lilies associated with a tenderly soft linden and a lightly flickering rose, bring together sweetly oriental spices - vanilla, cloves and cinnamon. Add sandalwood and a soft caress of ambergris with musk.
The smell is alluringly sinful for men and irritatingly sensual for women.

Customer Reviews (2)
Crushed ice from a mixture of citrus, more bitter than acidic, juicy and aromatic. Gin and tonic reminds us of the sparkling and bitterness of the sweetness. The feeling of ice gradually disappears, the citrus is drunk into the wood. They still remain only slightly sweet, maintaining a style of sober elegance. Interesting scent (6.1.2014 - Dzona)

Rasasi Zodiac Leo - bitter grapefruit including peel and sprig of juicy cypresses slightly sweetens tangerine pulp, juicy adds fresh herbal footprint and bouquets of sweet roses and peonies. Cinnamon is subtly mixed with vanilla, both illustrate, but do not sweeten, just warm. The result is an original citrus herbal aroma with tones of dry bitterness. (Nov 20, 2013 Simona J.)

Have you tried one of our perfumes?
Let us know
how you like it!
Notify me when available?
You might also like