Rasasi Zodiac Aries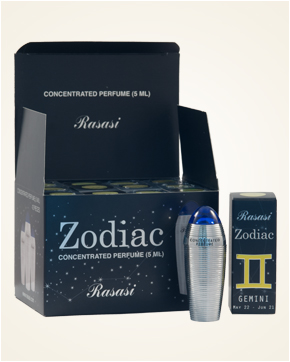 Rasasi Zodiac Aries
Concentrated Perfume Oil 5 ml
Out Of Stock
Concentrated Perfume Oil Sample 0.5 ml
Out Of Stock
Notify me when available?
Description
Aries / Skopec (21.3. - 20.4.)

Zodiac Collection is a very beautiful set of 12 oil perfumes, CPO 5 ml, hidden in a small silver case. You can smell different scents for every month's sign.
The introduction shows bergamot and fresh bitter lemon peel. The beautiful perfume winding has amazingly laid white floral tones of ylang - ylang, lily of the valley and jasmine. A fully bloom rose is added, accompanied by an orchid and an iris. Smoothing belongs to musk which spreads out in pink wood. Gently served woody sweetness comes with sandalwood and cedar.

Customer Reviews (2)
Rasasi - Zodiac Aries - is a very interesting scent. I was absolutely sure I wouldn't like it. I don't like fresh smells and this one is almost metallic cold. But under that cold, a dense, soft, and almost warm-sounding musk sleeps. Or so does ylang - ylang? I have no idea, but I still have to sniff and although now, with the upcoming autumn and winter I certainly can not imagine wearing it, among other treasures will wait nicely for the next summer, and then enjoy it with great finery. (03/10/2016 - Lenka S.)

Green wind, soap with the scent of green lemon. The smell is metallic cold, but at the same time dry musk. But don't imagine an ordinary musk, this is like a cotton bandage, dense, fluffy and caring. Women's and very calming. One of my favorites. (Jan 6, 2014 - Dzona)

Have you tried one of our perfumes?
Let us know
how you like it!
Notify me when available?