Yankee Candle Midsummers Night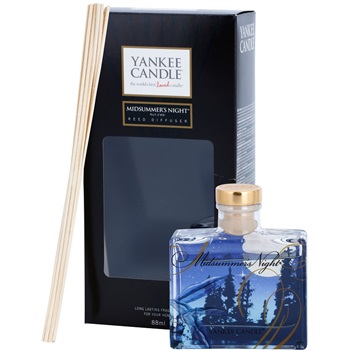 Yankee Candle Midsummers Night
Aroma Diffuser With Refill 88 ml Signature
Out Of Stock
Notify me when available?
Description
Fragrance: Midsummers Night
Summer night
Narcotic and manly mixture of musk, patchouli, sage and mahogany cologne. Beautiful and very sensual, yet pure composition for men. Platinum fragrance
Design: aroma diffuser scented straws with 170 ml filling
Fill every room with a long-lasting fragrance!
These fragrant reed stalks guarantee a continuous scent.
Just place the stalks in the bottle with the scent.
The stalks behave like "wicks" and draw the smell of oil up to the reeds, which scatters the air.
Natural straws, long-lasting concentrated fragrance, non-flammable and alcohol free.
The unique handmade bottle of stalks fit beautifully.
Beautiful gift and unique interior decoration.
Scent time: up to 2 months
Contents: 88 ml
Weight: 481 g
Pack dimension: 7 x 11,6 x 22,3 cm
About Yankee Candle
Yankee Candle is the world's best known manufacturer of scented candles and indoor scents.
Yankee Candle smells as pleasant as the real flowers, fruits, spices, place or experience they were inspired to.
Yankee Candle - these are the most varied authentic fragrances that will not disappear even with time and will scent your interior for a long time until the last flash of the flame.

Notify me when available?