Yankee Candle Madagascan Orchid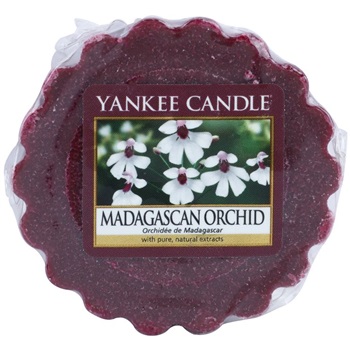 Yankee Candle Madagascan Orchid
Wax Melt 22 g
Out Of Stock
Notify me when available?
Description
Fragrance: Madagascan Orchid
Orchid of Madagascar
Intense and fascinating is this exotic perfume with the scent of a rare orchid. She is irresistibly appealing.
Design: Scented wax for aroma lamp 22 g
Long-lasting fragrance wax with a charming Yankee Candle fragrance.
Melted scented wax that scents the whole apartment very quickly.
Burning and scent time: up to 8 hours
Dimensions: diameter 5.6 cm, height 1.5 cm
Weight: 22 g
Tips:
The scented wax is simply inserted into the upper cup of the aroma lamp.
Insert a lighted tea candle into the bottom of the aroma lamp.
As the wax gradually dissolves, a charming fragrance begins to penetrate the space.
When the candle is blown, the wax solidifies and can be reused.
Caution - Do not put wax in water.
Waxes can be combined: create your own scents by breaking different waxes into the upper cup of the aroma lamp.
But you can also put it stiff in small spaces and enjoy freshness for weeks.
About Yankee Candle
Yankee Candle is the world's best known manufacturer of scented candles and indoor scents.
Yankee Candle smells as pleasant as the real flowers, fruits, spices, place or experience they were inspired to.
Yankee Candle - these are the most varied authentic fragrances that will not disappear even with time and will scent your interior for a long time until the last flash of the flame.

Notify me when available?