Yankee Candle Leather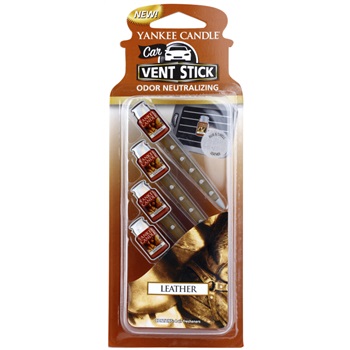 Yankee Candle Leather
Car Air Freshener 4 pc
Out Of Stock
Notify me when available?
Description
Fragrance: Leather
Soft leather
Rich aroma of the finest skin. Typical aroma of luxury natural material.
Design: 4 incense car pegs
Make your car a favorite and long-lasting scent!
Aroma for ventilation in the car. Snap into the ventilation grille.
The aroma is released by a stream of air, neutralizes odors and refreshes the car interior beautifully.
It smells of other smaller spaces.
Each peg smells for approximately two weeks.
Made using the finest raw materials and natural essential oils for maximum saturated fragrance.
Scent time of whole package: up to 60 days
Pack dimension: 7.6 x 18.9 x 1.7 cm
Weight: 12 g
About Yankee Candle
Yankee Candle is the world's best known manufacturer of scented candles and indoor scents.
Yankee Candle smells as pleasant as the real flowers, fruits, spices, place or experience they were inspired to.
Yankee Candle - these are the most varied authentic fragrances that will not disappear even with time and will scent your interior for a long time until the last flash of the flame.

Notify me when available?