Louis Cardin Transparent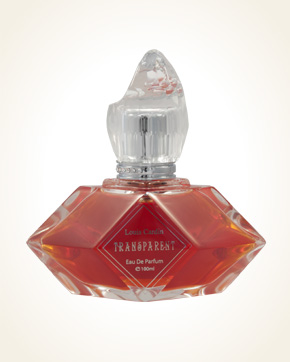 Louis Cardin Transparent
Eau de Parfum 100 ml
In Stock
Eau de Parfum Sample 1 ml
In Stock
Description
Raspberries, pomegranate, passion fruit, bitter grapefruit, a peculiar fruit composition that, with a large dose of vanilla, creates a very pleasing, directly opulent fragrance.
Heavily breathing sweet and sensual tones, which bind you with their strength, give way to sinful thoughts.
Beautifully mixed cocktail of sweet fruity aroma, which also has a pleasantly powdered trace of white musk.

Customer Reviews (6)
Transparent - there was no choice, I had to replenish the supply. This magical scent that I would like to bathe began to disappear dangerously, and I cannot imagine that I would run out and I would have to spend a single sunny day without it. Thank you for the discount, which came in handy and for the incredibly fast delivery you always amaze me with. A big thank you for the gift, which also greatly delighted, Elena is one of my favorites. It's hard to decide which gems to choose from. This time I soberly chose my best summer and resisted another temptation. I eagerly await the surprise from Dubai and I hereby warmly greet Mrs Lenka and thank you very much. (10/06/2016 - Lenka S.)

Transparent - red sweet seduction, mischievous senses ... I found it under the tree and the joy was indescribable. Some time ago I tried the formula and I must admit that I literally got my head confused. It is juicy as an overripe fruit, the sweetness is moderated by the bitter trace of grapefruit peel and softened by a vanilla puff. I have been looking for "my fragrance" for a long time, and when I thought I had found it, Transparent appeared with his playfulness and sensuality. It is my second skin, the robe I want to dress every day. I am curious about the reactions of the surroundings, my friend is thrilled, after all, he gave me the pleasure of dressing up with this gem. Thanks, thanks, thanks, I found my best perfume (26.12.2015 - Lenka S.)

Today I received a package at the post office and TRANSPARENT !!! well this is crazy !!! I looked at the Taj Al Arab, but I read a review of your Transparent clients and it was decided. I really almost sat on my ass when I tasted it. I've loved Mugler's Angel for years, and this is perfume - a friend. He's intoxicating, seductive, sexy, bitter, juicy ... he really likes me. The bottle is also nice and the liquid red! Luxury! I look forward to showing him to my friend. She will stare !!! (10/01/2014 - Helena B.)

The beauty of the Transparent bottle is the icing on the cake of this wonderful fragrance. You could say that for me it was love at the first smell, although the subconscious probably knew right after reading the composition :-) Development was as follows - the first test of the sample: God, this is a beautiful smell, I was very impressed, 2 fragrance - I would really like this smell, 3rd exam - I go and click away :-) It is a bowl of crushed fruit sweetened with vanilla sugar, from which raspberries peek most, this slice of pink grapefruit. Gourmetly sucked in an extremely intoxicating, rich, juicy charge, a sweetly refreshing cocktail, smooth musk and smooth as a chenille, just bundle into it. Transparent is a truly transparent sweet unglued fruit plant, which shines and warms up a cold day with excellent durability. I wonder how it will be in the summer. (31/10/2013 - Andrea Ž.)

Transparent - non-Arabic name, but Arabic it is. Basket of forest fruits, from strawberries, raspberries, blueberries to slightly bitter blackberries. A moderate dose of musk softens the sweetness but leaves a strong and strong fruity impression. Caramelized orange dusted with dry vanilla is gradually added. The smell so cheerful that I inadvertently smiled. After a few hours the fruit is almost dried, dusty and velvety. (7/22/2013 - Simona J.)

Transparent - red fruit with some bitter trace, a little wood and musk, at some stage reminds me very easily Boisé Torride. (7/16/2013 - Renée H.)

Have you tried one of our perfumes?
Let us know
how you like it!
You might also like