Afnan Supremacy Gold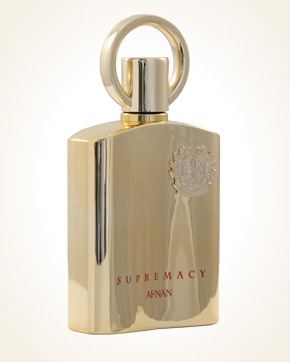 Afnan Supremacy Gold
Eau de Parfum 100 ml
In Stock
Eau de Parfum Sample 1 ml
In Stock
Description
Supremacy Gold is enchantment, is desire, is seduction - masterfully composed tones that blend together to form an amazing whole.
Introduction include violets and peach flowers. Their combination with caraway seeds and nutmeg gives the room a scentful, yet sensually carried scent. The dark woody echoes of patchouli lead us to a beautifully delivered iris so that the fragrance can blossom in the company of vanilla. The walk continues with black amber and musk purity of delicacy, opening the space for oud oil, which underlines the whole composition in a perfectly fitting and very addictive scent.

Customer Reviews (6)
SUPREMACY GOLD This perfume has not been available for some time. Years ago I had it and I was totally enchanted by it. Liquefied luxury - literally! Now it is finally on offer again and I order now. It is gentle and distinctive at the same time. (1/19/2020 - Jirina K.)

A brilliant smell, but not for everyone. Captivating, strong, ethereal - all you need is a single spray and turns you into a Femme Fatale - and I'm not exaggerating. This fragrance needs to be worn - as if you were buying a luxury piece from a design workshop. Full, honey, floral, not cheaply sweet - on the contrary, literally like from the Thousand and One Nights. Somehow I imagine that they had to smell the Egyptian princesses pampered with essential oils, flower essences, and expensive and special frills. I very much like the reactions of the surroundings, especially the men, because it is the smell that definitely captivates. The biggest plus is that you only need a single spray and especially because after the shower I still feel a gentle whiff of skin. AFTER LOVE - Afnan - Supremacy Gold, I have a 100ml version and I am enchanted by the smell and weight of the package: D (3.3.2015 - Kristína Š.)

... so I could not resist, the last Supremacy Gold spray from Mrs. Lenka was fatal. After a few days, I can feel the beautiful delicate scent on my collar that I must have if there was no bread. Soft, elegant beauty !!! Finally, I have the perfumes of my dreams, which I have been looking for in vain for years. I warmly recommend. (1/20/2015 - Helena P.)

Supremacy Gold. Again, I have an asterisk with an asterisk. He got me the first smell. I can't describe it like other customers. It's a special combination of the most beautiful. Luxury, not heavy, perfectly balanced. I'm sure to get a big pack or write to the baby Jesus. (16/09/2014 - Martina M.)

Supremacy Gold - inside a beautiful and mighty flacon conceals a subtle scent, yet expressive and lasting. The advent is like caressing a summer garden, when the last strawberries ripen and overripe peaches full of sweet juice fall from the trees into dewy grass and dig into the dirt. Here patchouli comes in its noblest form, but does not disturb, just completes the picture and adds velvety smoothness. Lulled by the beauty that evokes the idea of a hot summer, garden and ubiquitous greenery, I suddenly awaken the onset of the oud. He leaves the other files behind, running away, and quite sensually proud of his dark side to be caught up in the other tones in a few minutes and merged with them. In this form, Supremacy Gold remains and gives a reassuring and elegant, though clearly oriental, impression. (7/22/2013 - Simona J.)

I spent this day with the Supremacy and that's great! The fragrance is truly amazing, it shows luxury workmanship and elegance ... It is velvety ... Roses, gardenias and irises dance their wedding dance with patchouli and beautiful powder musk, they fall tired in warm and soft reach into the arms of dust vanilla in warm embrace sandalwood, giving off its typically milky smell with a bit of nut oil. The combination of a droplet of aldehydes with ambergris and leather tones with vanilla, which I always feel in the lower tones, reminds me of the same velvety and smoothness that Guirlain's Cuir Beluga has. Arab with a European heart ... I'm really excited! So feminine and luxurious fragrance at a very nice price ... My husband liked the spray immediately, immediately noticed that I had something new and reported that this is so beautiful and luxury !!! Supremacy Gold is a very pleasant surprise for me. And I do not blame her popularity in Oman, it will certainly be popular in other destinations :-). This was a "blind man" :-). (17/07/2013 - Renée H.)

Have you tried one of our perfumes?
Let us know
how you like it!
You might also like