Louis Cardin Sacred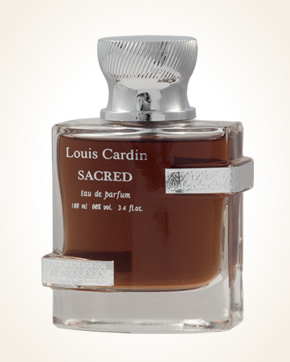 Louis Cardin Sacred
Eau de Parfum 100 ml
In Stock
Eau de Parfum Sample 1 ml
In Stock
Description
Taste mysterious sensuality with luxurious enchantment.
Sacred, it is a great pleasure full of vanilla seduction, whose intensity and warm warming will be complemented by sandalwood.
Beautiful tones of delicate musk are combined with this unique fragrance into a wonderful whole.
The fragrance is characterized by warm, seductive tones that blend from opulently sweet, to woody soft, to a tenderly smooth embrace.

Customer Reviews (12)
Hello, today I received the perfume Louis Cardin SACRED from you. Well .... it's exceptional and after the application "it costs much more". I would definitely take at least half an hour between the application before I enter a company, cafe or meeting .... and the perfume wants .. starts living in It's bold, stunning, and there's a lot everywhere, it's spreading like I entered a shop in Dubai where they choose the jewelry of the sheikh's wife (I was there) and the same in the presidential palace for coffee with gold dust on white foam .... it was everywhere I'm excited and now I have one sample every day to handle it in my head and not destroy emotional and emotional perception JO! Really good I appreciate the call back after creating the order. It's from you a professional approach in the sense of combining difficult and beautiful discipline in the sale of cosmetics and friendly behavior to the customer, who has a choice at many sellers, but .... ..... ,, that human contact is important, the customer should He didn't swim for you, because he was caught and will remain steadfast. " (09/22/2021 - Jaromir K.)

Hello, yesterday I received an order for the perfume LC Sacred, for which I received a tip from a friend from the Netherlands. Of course, he did not disappoint and fulfilled all expectations. Well thank you. (06/24/2021 - Vladimir R.)

Thank you very much for the opportunity to buy such gems from you as this Sacred perfume by Louis Cardin. Just great, amazing, non-honest ... divine. Other words are no longer necessary. Thank you :) (7.1.2020 - Mirka N.)

Greetings from Russia))). My name is Olga) I received a package from you yesterday! All perfectly. I have been looking for this fragrance for a long time! Louis Cardin Sacred Thank you very much !!! For the long-awaited bottles, for great packaging and great gifts !! I will definitely order this fragrance to my friends, they really liked it !!! (7.9.2019 - Olga - Moscow)

LOUIS CARDIN - SACRED is a super gourmet, intense and sweet smell full of vanilla. It also exceeded 8 hours of typical work shifts (physical work must be noted). Great. These fragrances will not match European fragrances. I recommend. (06/09/2019 - Pavla F.)

Mrs. Lenko, thank you again for sending Sacred. I am very happy, I am totally dependent on the smell, how wonderful it is. Have a nice time :-) (17/01/2019 - Renata K.)

Hello 3 or 4 years ago I refused Sacred from L. Cardin, saying that I thought it was nice, but a bit gentleman, and I don't know what else. :-D But I kept it in my head ... I recently ordered his sample again and yesterday a great perfume. I got it today! Sacred is simply God. Breathtaking .... Vanilla with sandalwood is intoxicating, leaving a nice "trace" and is horribly sexy! Just another of your "pit" ..... and that I already have many, it can not simply resist. Thank you very much and have a nice time! (2/23/2018 - Renata K.)

Good day moooc I would like to thank you for the last order.vyborne perfumes great fragrant and sweet souvenir.Dokonce I finally happily and what satisfied customer pisi.Testoval already received the formula SACRED and within an hour, 2 women asked me what so beautifully smell that there is a beautiful fragrance behind me - one even stopped me in the store.Takze it is clear that I just have to order the next order. (3/13/2017 - Květoslava B.)

Hello Mrs. Lenko, I want to ask you a lot, perhaps the package is not yet sealed and ready to ship if I could order. A colleague at work is abducted from Sacred Louis Cardin. It is said that hours after my arrival to work, I smell all the places I went through. Sacred praises me all. One of my colleagues said that I smell wonderful and that it is certainly expensive perfume. Another, together with praise, added that it is the first ladies perfume that does not force him to sneeze :-) (allergic ...) Again and thank you very much (9.12.2016 - Lenka S.)

Louis Cardin - Sacred - My favorite was Subsense perfume until I read the Sacred review. My first perfume from you was Amaal, the love of the first scent. All the more disappointing at finding that he was no longer available. In the reviews there was a mention of the form between these scents and so the choice was clear. Sacred spells on my skin from the very beginning. In the beginning, vanilla is covered with musk like silk. After a while, the sandalwood rises with the power of incense sticks. All the time, the three components mix, dancing side by side. The aroma is beautiful, warm, literally soothing senses and evokes a feeling of well-being. Amaal is fuller, deeper, more intoxicating ... But if I don't find another competitor for the post as Amaal's darling, Sacred will take his place, which also enchanted me. I was still wondering what Arab perfumes are so irresistible to me. I have no other reason than the difference between European and Indian cuisine that I adore. While the Czech one offers a formless something of a faint taste, the Indian one will fill you as an empty goblet. Satisfy the taste buds and caress the soul with its balance and concert of tastes. You no longer need to eat, dessert, are satisfied and satisfied. It is the same with the perfumes of your offer. I no longer want the European ones. I have thirty favorites that I would like to include in my collection. It's even real: -o ??? But how to resist ??? !!! (02/02/2016 - Lenka S.)

Sacred - he hasn't spoken to me for a long time, when it came cold and I thought that the pattern I dream of, how excited me with his vanilla :). The appearance with Ammal is clearly here, but mainly with the far more expensive Manifesto l'Elixir (Yves Saint Laurent). For the darker version I recommend a combination with oudový cpo (Shaikhah or Musk Makkah), the smell then gets sexy and you have a choice instead of one version just two :) (30/12/2014 - Marta K.)

The very first thing that flashed in my mind when I first smelled to Sacred was, "How is this wonderful vanilla somehow neglected? It's another clone to the Soft and Amaal family. "And although the clone, Sacred is on his own. The introductory tones tell us about the parable of Soft, but the breath of citrus freshness, which is characterized by Soft, will soon disappear and the sandalwood-colored vanilla (that is, the line leading to Amaal) will come in various forms. First a sensual liqueur provocateur retreats to delicious vanilla rolls and settles into an irritatingly disturbing beauty, well aware of her fragrant virtues in the form of a warm velvety soft woody vanilla lightened with a clear musk. Sacred presents a beautiful vanilla concert that will overwhelm our senses for a long time. (09/08/2014 - Andrea Ž.)

Have you tried one of our perfumes?
Let us know
how you like it!
You might also like