Al Alwani Rasha Hanaan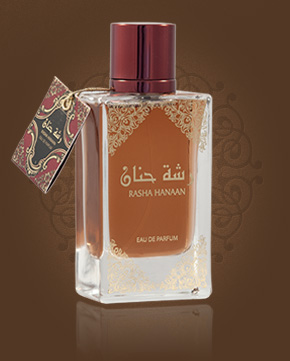 Al Alwani Rasha Hanaan
Eau de Parfum 80 ml
Out Of Stock
Eau de Parfum Sample 1 ml
Out Of Stock
Notify me when available?
Description
The fragrance in its mystery shows gradually as if smoky orange flowers with saffron, which opens the entrance to the landscape of exotic fruits of lychee and mango swimming in a honey bath.
Bulgarian rose with its mild to hint outlined aroma in fruit is chased amber. Tonka, with its powerful, warm sweet aroma, takes the scent of cognac and sandalwood to help close the perfume.

Customer Reviews (5)
Hello Rasha Hanaan is amazing !!! A wonderful fragrance! Thank you again and have a nice time. (06/05/2016 - Renata K.)

Al Alwani - Rasha Hanaan - I have confusion in my head ... sitting here, trying samples and thinking again which of the beautiful fragrances I order next time. And this smell confuses me. On the paper I wrote: the beginning of saffron, orange and some exotic fruits, I smell after a while. But on the other wrist, Musk al Ahlam literally reigns and beats absolutely everything. And because he doesn't give it to me, I'll try Rasha again in a moment and ........ I can. A really beautiful scent. Honey, sandalwood, some exotic fruits, ambergris ... Beautiful fragrance at a beautiful price :-) (4.2.2016 - Lenka S.)

And the overall tone Transparent vs. Rasha? Probably like vanilla mousse with fruit flavor tropical mixture. Rasha a degree sweeter and brighter than Transparent. For both great stamina and go nicely into space. (3/7/2014 - Andrea Ž.)

Rasha surprised me. Even after several rehearsals, it did not unfold on me as I would have expected, it developed into a rich velvety soft fruit composition similar to Transparent. And I really can :-) Unlike Transparent, which is through and through fruity (and thanks to grapefruit at the beginning and a bit pleasantly slightly bitter at the beginning), Rasha begins by the intoxication of orange flowers that carry the juiciness of their fruits. Sweet delicacy continues in the form of tropical fruit with a large dose of tonka, creating a beautifully fluffy cheering vanilla - fruit mix that lasts and lasts. Exceptionally, there is a sandal in the background. And nothing else, which I do not mind at all, because this fragrant finale is for me incredible doping, optimistic stimulant. Thanks, Rasha, you're definitely worth noting. (3/7/2014 - Andrea Ž.)

Rasha Hanaan - yes, on stamina great stamina, on the skin from a good spraying also very good ... In the folders I still search ... Orange flowers with juicy orange slices, roses, or she is missing ..., a pinch of rare saffron , a little labdan and a golden censer smoke ..., sweet-bitter ambergris, smelling of honeycombs ..., warm musk and wood at the end ... It sounds darker, in dark red to burgundy tones, but it is not entirely dark, some refreshing and airy tones, nothing is black and white ... (06/07/2013 - Renée H.)

Have you tried one of our perfumes?
Let us know
how you like it!
Notify me when available?