Swiss Arabian Noora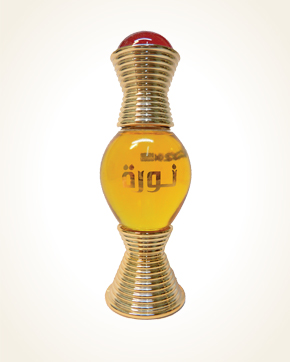 Swiss Arabian Noora
Concentrated Perfume Oil 20 ml
Out Of Stock
Concentrated Perfume Oil Sample 0.5 ml
In Stock
Notify me when available?
Description
This perfume offers a honey bath with fruit nectar and full arms of flowers. Velvet honey backed by soft chocolate, the hotness of the fragrance tempting the sinful temptation of delightful delight.
A few drops scent the wrists you still need to put to your nose and soak up the intoxicating secret that is hidden in a small bottle.
With a great passion, he tries to flatter an orange with a mandarin, followed by a plum soaked in hot chocolate sprinkled with vanilla.
It is a concert of unabated harmony of tones, created for the moment's uniqueness.

Customer Reviews (5)
Hello, thank you for having it again - I am again sensually melting in chocolate intoxication with pieces of fruit ... a dense perfume accompanies me all day and the scent is seriously "eaten" after developing the flower bouquet :-) Děkujiiii (09.10.2020 - Petra H.)

For me a typical gourmet fragrance. It reminds me of a bowle :-D I see drunk fruit - maybe tangerine, peach, orange and the ripe plums mentioned, loaded with cognac, happily staggering in chocolate. The world is sunlit. The smell is dense, sweet, honey and in the summer must sinfully seduce to vices ;-) When tired fruit falls asleep, a majestic rose enters the space, followed by narcotic jasmine. (April 8, 2015 - Zita Ř.)

The name Noora would tempt the idea that perfume would be as cool as a Nordic beauty, but the opposite is true. The name of this gourmet gem is derived from the Arabian Ellinor and hides the passion and temperament enveloped in the mystery of Oriental beauty. Noora will fall in love or reject; Noora is a sensual thoroughbred Arabian, a perfume for a strong and confident woman, otherwise she would drag her wearer in the dust of the road. Noora is a fiery brunette dancing in a silent palace, and the ruler of the Sultan's bedroom. It is an elusive, ghost of pleasure that leaves a distinct scented footprint wherever it flickers. A sinful dream of all men. But she belongs only to her pasha, for him she always delightedly delves into the bath and is massaged with fragrant oil, which bears her name. The gentle fingers of Noah's harem slave gently rubbed the golden oil into the silky skin, from which a vigorous cloud of seductive soaking begins to rise, creating a thick coat of such intoxicating beauty, from which the knees break. There are sweet plums and oranges with a pinch of freshly grated sharp ginger dipped in a delicious chocolate liqueur. The distinctive aroma slowly settles and a full bouquet of narcotic roses and jasmine is added, backed by saffron, from which the juicy thick honey nectar drips lazily. A mixture of all the fragrant lines tame dust vanilla glorifying in the arms of warm sandalwood. A masterpiece, a unique work. I put a few drops on my hair, on my neck, on my wrist, smell and ... I'm Noora. A small note to the end: Ellinor means "God is my light". This was fully reflected in the elegantly simple flacon that gives me the impression of a god torch. Perfectly. (04/11/2013 - Andrea Ž.)

On Noora, it is amusing to change suddenly from the initial casualness and chaos, where typical oriental ingredients (ambergris + roses + oud + spices) seem to lie just loosely and unrestrained next to each other in an artfully arranged confectionery buffet. It triggers the arrival of dry, almost powdery honey, which gives the all-round taste and style at once, creating sweet ornaments and a sense of polish. Noora did this turn in every rehearsal, and after an hour or two she suddenly beautifully arranged under a sweet powder drift. Only it was sometimes more confectionary and sometimes floral again, and then the powder turned into a cloud of pollen, until it itchy nose. As a delicacy, Noora is abundant, yet light and does not disturb the surroundings. (02/11/2013 - Dzona)


Have you tried one of our perfumes?
Let us know
how you like it!
Notify me when available?
You might also like