Yas Perfumes Musk Yas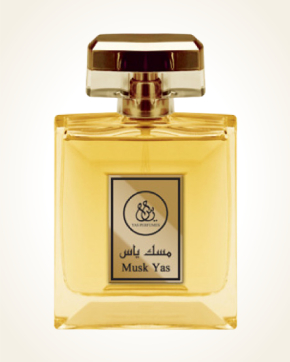 Yas Perfumes Musk Yas
Eau de Parfum 100 ml
In Stock
Eau de Parfum Sample 1 ml
In Stock
Description
Musk Yas perfume brings more than scent - it's a desirable and burning passion. It brings desire, experience and sparkling, delivers refined elegance and luxury.
As the name suggests, the composition is dominated by the characteristic aroma of tender purity and sensuality of white musk. Its connection with a freshly fresh, bitter lemon that completely immerses itself in the delicate white flowers of narcotic jasmine creates an unforgettable trace. Along the elegant line of silky ambergris we transfer to a slightly woody tones, which re-embrace the uniqueness of white musk, this time associated with a hint of cedar, and finally a warm sweet tonka with a vanilla echo.
Enter this conversation between you and the perfume and let even the most hidden chord sound, every key of fragrance that is completely unforgettable and with which you discover the secret of sensuality.

Customer Reviews (3)
... Musk Yas got me and I count the days when I see him on the site to order again. As your client wrote, it is an aroma of extraordinary beauty and richness. She's beautiful and I don't know if she'll be different for me like this. We just hope that you will carry Supremacy, Musky of all kinds and small balls all the time and you will be here for us. (10/22/2013 - Anna C.)

Another of the gorgeous perfume jewelry from the hot Arabian peninsula ... Another story ... The walls of the palace chambers covered with precious emerald green tapestries interwoven with gold, the damp night air brings a heavy scent of flowers from the gardens; she stands at a distance, ready for a single gesture of her new mistress. Resting in a warm scented bath ... tiny yellow flowers and a few rose petals are slowly wading on the surface ... silence ... burning wax candles ... Feel the warmth pervading through the delicate skin all over the body, perceiving deep, intoxicating breaths the burning scent oil ... she wants to write the last moments of loneliness, innocence and dreams ... after this night she will not be the same ... only a few moments ago a silent twilight fell, the noise and laughter of celebrating ceased ... She is alone ... yet . From under the thick black lashes is a view of a divan covered with soft mossy velvet, yet there is a white dress, whiter than her milky skin, as fragile as herself, embroidered with gold thread, adorned with thousands of pearls and crystals of precious stones ... blue silk with silver and diamonds ... night sky ... sin. She vainly tries to recall his face, sees only his dark eyes and his image in them, drowns in them how deep they were, her head spinning ... will she love him? And he her? His voice ... yes, his velvety voice ... will love her. A man with such a look and voice can love. She hears the steps ... she sees the volatile looks of the maids ... she has to go ... drops of water run down hot skin, smooth, agile hands rub the precious fragrant oils into her skin, weave flowers into her black thick hair ... cool silk glides over her body ... rustling her tiny steps ... The manicured hand pulls away the heavy curtain ... His dark eyes ... his velvety voice ... The perfume work of the palace royal firm Yas Perfumes, proudly and dignifiedly receiving this prestige. Luxurious fragrance, refined, elegant, buoyant ... of high quality, carefully selected and processed ingredients. Can she stir the senses, can she act tenderly, softly and innocently, while being hot, passionate and sweetly sinful ... does that sound like a fairy tale or kitsch ?! It's all. Virgin and harlot. Simple and complex. Readable and full of secrets ... Musk ... in the first place and also at the end. But he is not alone, though he can be perceived as such ... Flowers ... dense, full bloom, exhaling his heavy scent, their juicy green stems ... velvety pink rose, tiny jasmine flowers, creamy rich gardenia, delicate magnolias, large lily flowers with thick yellow pollen pistils. Spices ... just a pinch ... cardamom and saffron. Sandalwood and davan oil bring the scent of precious woods and a bowl of ripe fruit ... bitterness of real ambergris ... sweet powder vanilla tonka. Musk ... The scent of hunting womanhood, one that, by its tone, belongs to the same family as Muattaq 88, Majestic, Danat Al Duniya and Ajmal would Ajmal. She got me ... completely and quite. (04/07/2013 - Renée H.)

So I decided to enjoy Yas and today I will only be with him. The distant thought - the scent of youth - had already caught her, finally. Do you remember the then expensive but affordable intimspray Vionell rosé (pink)? So his cobweb softness and gentleness came back to me now. Not that they were somehow similar, but they're connected by musk and I feel a lot of powder and a little violet and a rose - more like a rose bud. And that was all there. Just some common tone came after these years ... I loved Vionell back then, used it as perfume, not as a deodorant, so I thought it was. In Yas I feel some old-worldishness, surely it is not an ultra-modern smell, but a timeless thing that will go on with flights and will only be more beautiful. It could be worn by movestars of the 60s, we can wear it now and in the next 20 years it will still have something to say and whom to address. I really like her, she is one of my top now like Dareeen, Boise Fruite or White Musk. The luxury and wealth literally engrave it. But real luxury and money can be smelled of it, not the scented misery that has only a semblance of luxury ..- .. (June 22, 2013 - Dana N.)

Have you tried one of our perfumes?
Let us know
how you like it!
You might also like