Mumayz Musk White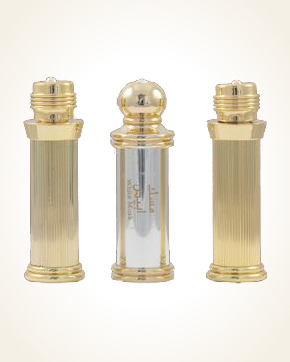 Mumayz Musk White
Concentrated Perfume Oil 12 ml
Out Of Stock
Concentrated Perfume Oil Sample 0.5 ml
Out Of Stock
Description
The magic of purity, lightness and sensuality, that is what makes musk perfumes so exclusive.
Musk White is white and very thick oil with soft scent of purity and freshness. Enjoy this amazing embrace of softness which tenderly caresses your whole body with a touch of velvet warmth and mysterious sensuality.
Customer Reviews (3)
Pampered - White Musc. White musk? Rather, ocher, if it were a color. It is a clean smell of powder, but it lacks the sterile coolness of white. Conversely, strong admixture of dry sawdust evokes a light wood, and so it is something of powder intimately with proteplenou cozy atmosphere. To do this you have přimyslete very fine soap and a touch of dried flowers and herbs, as the soft light of sunset. And then vanilla, ironed so that the power does not rise. All in all it's splendor, Muscat White Powder is the most pleasant scent, which I have not tried. Comfortable and very personal without being reminded sweaty skin. Incidentally, I could not help it, and I made my way to compare these perfumes with musk, how it works Narciso Rodriguez. Enough, I wonder how synthetically beside them trailed Rodriguez. Otherwise, who would be interested in the technical details, the terms of perfume oils strong intensity and long-lasting endurance. (April 10, 2014 - Dzone)
I'm a big supporter here of limbs, but White Musk got me. And the consistency! Literally yummy :-) (February 28, 2014 - Alice V.)
White Musk - a magnificent white musk, with absolutely luxurious stamina, for me, a great resemblance As Alit musk. I'm a little "scare" the dense consistency, it is up to gelovokrémové, I have to get used to the smell ... but beautiful! The vast number one of the three Musk ... (16/07/2013 - Renee H.)
Have you tried one of our perfumes?
Let us know
how you like it!