Mumayz Musk Rose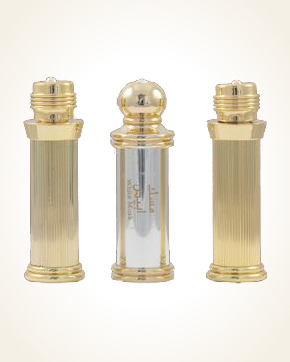 Mumayz Musk Rose
Concentrated Perfume Oil 12 ml
Out Of Stock
Concentrated Perfume Oil Sample 0.5 ml
Out Of Stock
Notify me when available?
Description
The spell of purity, the spell of breathlessness, the spell of sensuality are exclusive musk fragrances.
The queen of flowers and the royal essence of musk, the connection is absolutely stunning. The rose with its majesty has conquered the purity and softness of the musk, which is drawn directly into the magic dance. There is a fresh rose with sparkling tones, a soft and smooth rose seducing to embrace, but also a narcotic rose with its full to honey undertone. The intensity and strength of this perfume will guide you through the day.

Customer Reviews (5)
Yesterday I opened my first package from you. They are real treasures, treasures from the distant Orient. All day I sniffed my wrists and the backs of my hands (I couldn't stand and try not only two scents) and waved them for the clouds of scent. Intensely persisted even after the attack of rubber garden gloves and evening showers. Mrs. Lenko, thank you very much for your personal welcome to this paradise garden and also for nice presents. I haven't had the privilege to describe my experience of any fragrance yet, so Musk Rose will be my first. She took me by heart. I love roses, I love Musk Rose. It caresses its softness, but at the same time it is not dull. It has a flare and a spark. It is like a real rose - a beautiful flower, a beautiful smell, but you know it has sharp thorns - and it irritates. It is not sharp or sweet, it just blooms right on your skin. You are wrapped in a light veil of oriental roses. (8/26/2014 - Marcela K.)

Musk Rose accompanies me more on festive occasions. It is an angel-like cloud surrounded by rose petals. (08/07/2014 - Alena V.)

Roses and huge - my first experience with Mumayz was a blind test, because the composition of the scents will not be known. Not that it worries me, because what to expect from a fragrance called Musc Rose? But I was wrong, the estimate for pink powder did not work out. It is the Rose and it is huge, such a carelessly crumpled flower from a rural garden with broadly spread petals and blatantly exposed yellow stamens. Beautiful and fertile. Perhaps this impression is also evoked by the specific type of freshness chosen by the perfume, not the moisture of the leaves or the sap, no, this freshness is more like a bite in a freshly picked summer apple. Musk, otherwise rather noticeable, together with a touch of dry wood balances this freshness so that the smell does not cool. The result is a powerful perfume, almost soliflor, that expands into space without oppressing the present or, forbidding God, bothering. (4/23/2014 - Dzona)

Thank you for the magical Musk Rose. It is for me the smell of comforter, as the rose can, because it is in the morning rose in the morning with drops of dew and rose at noon in full sun to the warm narcotic smell of evening with a veil of fresh honey. Yum! Splendor! She's with me every day now. (04/09/2013 - Jana J.)

Musk Rose - at the beginning I thought, not this ... but after a while I couldn't ... and suddenly I had to suck the scent of my forearms more and more, in the end it was amazing ... beautiful powder roses with pure musk, real and fresh ... I was reminded of Flower Al Khalid, but here composed with a higher-level ingredient, plus incredible stamina! Honest second place and, thanks to a more pleasant consistency, Musk White treads on his heels. I wore White on one wrist and Rose on the other, not only did they withstand the shower, but the sleeves of the shirt smelled beautifully and I bet they will smell the wash. (7/16/2013 - Renée H.)

Have you tried one of our perfumes?
Let us know
how you like it!
Notify me when available?
You might also like