Mumayz Musk Perfumed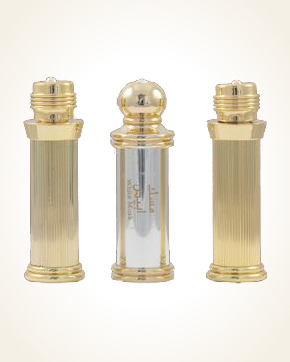 Mumayz Musk Perfumed
Concentrated Perfume Oil 12 ml
Out Of Stock
Concentrated Perfume Oil Sample 0.5 ml
Out Of Stock
Notify me when available?
Description
The spell of purity, the spell of breathlessness, the spell of sensuality are exclusive musk fragrances.
Get the intoxication of the white musk, which is processed here with a floral and slightly fruity veil. The intoxicating seduction of mimosa in conjunction with tangerine creates an exclusive fragrance, accompanied by a fine Bulgarian rose. This is where the gourmet fragrance is created, which binds you with its sensual fragility and yet intensity.

Customer Reviews (4)
Thanks to Musk Perfumed, I have moved musk fragrances from "go outside me" to "interesting to explore". He won me on vacation, where he exceeded expectations in the tropical heat. There is no more feeling when you bathe in the sea while floating in a cloud of soft creamy aroma with a touch of fruit. The fluffy musk creates a warp in which white flowers are interwoven, with buds of pink roses hiding between them. Everything is sprinkled with droplets of refreshing sparkling fruit nectar. The body is wrapped in a radiant golden-pink aura, which is kept intimate, but makes itself known. How to describe Musk Perfumed in one sentence? As follows: luxurious musk fragrance with excellent endurance (3.12.2014 - Andrea Ž.)

He would have liked the name Musc Pink much more, adding a more eloquent addition to this "colorful" line of three musk scents. Why pink? Because it is a pink color in which the idea consists of a thoroughbred and noisy blend of ingredients typical of Arabian fragrances. Fresh and marmalade aroma of fruit, syrup-drenched flowers, mainly roses and jasmine, but I could feel lilies of the valley, creamy sandalwood and grounding oud. Sophisticated into a supple mass, somewhat dense, but at the same time pampering as a massage with essential oils. If she misses something, then the detail is typical of her to be distinguishable from similar Arabic perfumes. Incidentally, it did not give me that, and I went to compare these perfumes with musk, as Narciso Rodriguez works with him. I wasn't surprised at how synthetically Rodriguez sounded beside them. Otherwise, who would be interested in technical details, then these are perfume oils of high intensity and long-lasting durability. (23.4.2014 - Dzona)

Musk Perfumed - so this is beauty! At first a bit similar to As Alit Musk and then wonder, he became an almost oil version of Musk Yas. The combination of the two is beautiful. (7/21/2013 - Dana N.)

Musk Perfumed - a fruit, something known to me from Bent Al Ezz Nabah, just in the beginning, then white flowers are added and musk has a certain powdery here, just like I saw in Shahle. For me third place ... (16.7.2013 - Renée H.)

Have you tried one of our perfumes?
Let us know
how you like it!
Notify me when available?