Rasasi Mukhalat Al Oudh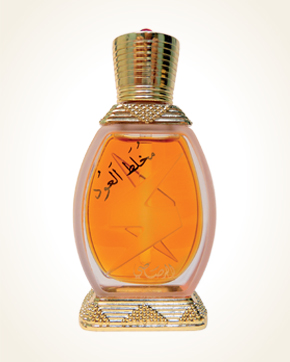 Rasasi Mukhalat Al Oudh
Concentrated Perfume Oil 20 ml
In Stock
Concentrated Perfume Oil Sample 0.5 ml
In Stock
Description
An intense aroma created on an oriental basis is a delightful, slow and supple plume of pleasure for your nostrils, opulent melange fruit with a fascinating oud.
A sunny garden with all kinds of flower aromas mixed with strawberries, juicy and intensely tasting, with warm wood tones, sandalwood and cypress.
All this stored sun is trying to flow through overripe fruit, which emits its heavily sweet molasses and flowers in full bloom, which for all days greedily sucked its power.
The harmonious combination of all the ingredients carefully selected creates a unique combination of fragrances in this amazing perfume.
Perfume is very intense, the aroma is wonderful and its durability perhaps endless. Lick your surroundings and leave a fragrant and gentle breath of perfume every step you take, the intensity of which will envelop you as if in the finest woven veil.

Customer Reviews (5)
Although I am not fruity or floral fragrances, this absolutely got me. I have such a funny incident with this oil that I was looking for the formula I received from you as a gift at midnight with a flashlight in the housing estate because it fell out of my pocket and one smell charmed me so that I had to find. It made me smell the wrists all the time, I never thought I would smell strawberry in the smell and if you told me I would, I would knock on my forehead. Super smell, super stamina, stone. (12/10/2019 - Pavla F.)

MUKHALAT AL OUDH - I have been waiting for this perfume for a long time and it is so beautiful, fascinating, charming and unique fragrance that literally took my breath away. His intense, delightful scent never ends. Wherever I went, his original signature remained, there I was, I will stay here and I will not leave. I want to thank you for all the amazing perfumes I have from you so far and I will be buying again and again because your perfume is never enough. It's like a dream from which you don't want to wake up and awaits what surprise it will look at. I can't wait for another fragrant masterpiece. My great thanks (21.6.2015 - Miloslava P.)

Mukhalat Al Oudh.. after that I intuitively reached out as the first ... wonderful, gentle ... delicious snacks ... like summer made !! (2015-02-02 - Hanka Ch.)

Mukhalat al Oudh - summer in the countryside, which I need all year round, when it is always so cold. I'm with this oil in the countryside - I've already written about it. In addition, the surrounding area is very pleased and quite clear, when they feel this floral gust and everyone asks, "what it smells so beautiful." (04/04/2013 - Sylva F.)

Mukallath Al Oud - I'm glad I took the scent. The smell does very well for me, it is the smell of freshness, femininity and freedom for me. A harmonious blend of oud, flowers, wild strawberries. This perfume takes me to the countryside, to the old path on the hill, where I have a beautiful view and I enjoy the beauty around, enjoying the silence and being myself. I totally failed those of your fragrant oils and thank you for driving them, that you are dealing with fragrances as such, because you allow us to indulge in this fragrant luxury. (26.7.2012 - Sylva F.)

Have you tried one of our perfumes?
Let us know
how you like it!
You might also like