Al Rehab Lovely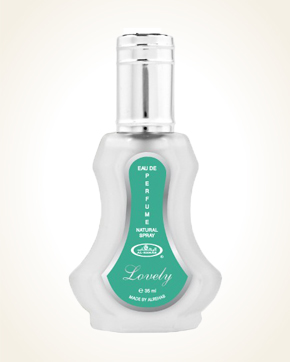 Al Rehab Lovely
Eau de Parfum 35 ml
In Stock
Eau de Parfum Sample 1 ml
In Stock
Description
Yes, exactly as the name suggests, a beautiful, tender musk and floral scent. In the foreground with amazing orange blossoms, supported by the soft purity of spilling musk. The peach and the strawberry peek timidly, and after the aroma, the perfume is classified as floral-fruity.
Lovely in the design of perfume water - EdP is more blended with sweetly tempting fruit than oil.

Customer Reviews (3)
Good day everyone! - Lovely EdP has not been in our offer for a very long time, so it will appear among the news for a while so that it does not escape your attention: -) (29.04.2021 - Lenka Anabis)

Al Rehab - Lovely EdP .. I ordered on the basis of one review and composition and I can only confirm that in an inconspicuous and unimpressed flacon is hidden a fairy tale that literally got me. fresh mix of peaches and strawberries and everything is wrapped in a musky cloud, which holds the whole composition wonderfully. After two weeks I have half the perfume down because I smell this luxury not only to work, but even before falling asleep and I definitely order this smell again in the soft version. (27/05/2016 - Irena Č.)

Lovely EDP - so this perfume was a huge surprise for me. I received it from Anabis as a gift for the order and it is true that I would have overlooked it in the amount of perfumes that are on offer and I wouldn't even look for a miracle, but he is a miracle literally. A sweet, magical aroma of juicy ripe peach with strawberry wrapped in musk .... well just a miracle. Just one spray and you are in the middle of the garden with Adam with Adam's hands :-). It immediately became an indispensable leader of my handbag perfume and I must say that I try all the perfume and pocket CPO samples on my colleagues, who by the way are also literally dependent on all these amazing scents and this little, easily overlooked perfume immediately got the attention and heart absolutely everyone - without exception - whether someone smells a spicy or citrus aroma, this one liked everyone. Therefore, in the next order will certainly be a few :-). Plus .... and that got me the most, Lovely is very similar to Precious Pink, which dominates my favorites, even so much that at the moment I have them on my hands side by side and almost do not know the difference, so I have to keep it at myself when I don't want to wear a big Precious in her purse. So nice ladies ..... it pays to look for beauty where you would not expect it, beautiful fragrant days to everyone and especially the Anabis team - for me and my happy and delighted colleagues great thanks. (3/14/2015 - Iveta W.)

Have you tried one of our perfumes?
Let us know
how you like it!
You might also like