Louis Cardin Silver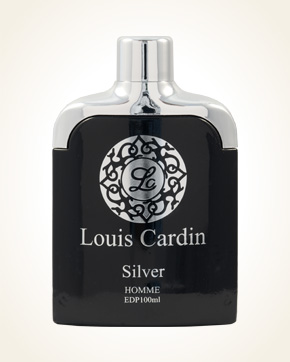 Louis Cardin Silver
Eau de Parfum 100 ml
In Stock
Eau de Parfum Sample 1 ml
In Stock
Description
Pleasantly carried men's perfume perched on sensual oriental spices with musk.
Initial musk-like tones associated with a fresh gust of pepper and nutmeg spread their lure to the woody sweet and strong patchouli with her herbal note. A silky ambergris comes with a warm, powdery lure and takes a warmly sweet, smoky trace of skin.
The whole composition sounds very seductive with soft ease.

Customer Reviews (3)
Good evening, after Wednesday's random visit to you, when you gave me a taste of Louis Cardin Silver, I cannot get the smell out of my head :-D (17.3.2016 - Zdeněk N.)

As a lightweight, silky men's pashmina, we are gently wrapped around an eye-catching Silver. In the shades of gray and black, the plastic patterns of nutmeg emerge, and a silver thread winds between them to breathe the scent of the purity of freshly bathed, shower-gel-saturated skin, responsible for a gust of fresh pepper covered with sweet musk haze. The harmony of spicy, sweet tones looks like a nice life-long wake. As a small stream gradually gaining strength, after a while, patchouli is added by a distinct earthy woody line. Its intensity is abraded with ambergris, which delivers a warm, powdery undertone accompanied by an unobtrusive suede softness. Silver is a gentle sensual fragrance and can reliably attract attention, as well as an elegant scarf on the neck of a charming man. Although Silver is featured in the men's perfume category, I perceive it as a very attractive unisex long-lasting fragrance. (January 16, 2014 - Andrea Ž.)


Have you tried one of our perfumes?
Let us know
how you like it!
You might also like