Louis Cardin Gold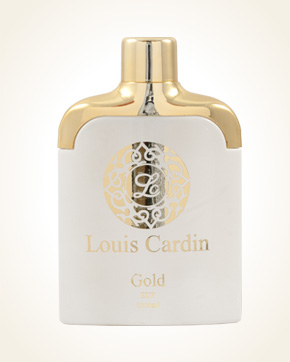 Louis Cardin Gold
Eau de Parfum 100 ml
In Stock
Eau de Parfum Sample 1 ml
In Stock
Description
Louis Cardin Gold perfume has won the title - the absolute winner of the 2015 Oriental Perfume - which took place in autumn 2015 and in January 2016 on our website www.anabis.com and Facebook.
Orange caress with warm, spicy spices, headed by vanilla, saffron and cloves, will attack your nostrils with the first drops of perfume. The sandalwood with a lightly set rose appears seductively.
Roses and orange blend together to create a pleasant connection, to which woody tones are added, and the perfume enters an elegantly powdered and softly sensual finish.

Customer Reviews (17)
Hello, I have had this sample for a very long time since I bought it out of curiosity. He is the absolute absolute winner in the competition - Oriental Perfume of 2015. At first I feel such a citrus breath or almost such a lustiness. I perceive her as something else that not everyone has ... thumbs up for me ..Nice fragrant day smells nice fans (18.05.2022 - Iveta P.)

I finally tried Louis Cardin - Gold on my wrist and I have to say I still have to sniff. It's an addictive scent, initially softly citrus, where a gentle dose of warm spices plays in the background, which softens the citrus impression and makes it softer. And now to the men's impression of the scent that some colleagues have. Yes, the fragrance after decomposition acquires certain more aromatic tones, which are rather typical for men's fragrances, at the expense of the more citrus ones. Even so, the base of the scent is nicely balanced and the scent is really interesting, original, it's probably not for lovers of floral scents, which may not be a hint of unisex. I don't think the scent would be in that men's spirit, I would rather call it a more original, unisex aroma. (10/17/2020 - Paul F.)

Hello, I ordered the smell of Louis Cardin Gold based on positive reviews. Well, that's when I want everything right now. I can't find myself in this scent. But you know what? I keep sniffing because I just have to. I do not understand that. When something does not smell you do not consciously sniff several times in a while. But it doesn't work that way. Like I need to sniff :-) Something is still attracting my nose. :-D :-D Thanks (02/20/2020 - Lucie S.)

Louis Cardin Gold.Tak of this fragrance I have some embarrassment, it is a beautiful fragrance, but as one user wrote here, I would rather include it and enough for the men's fragrance. (8/21/2019 - Marie Š.)

Already home, my beautiful Gold Louis :-D. Thank you, it is a wonderful smell, which is all day all day and I all day sniffing :-). Thank you for the fragrant gifts. (18/10/2018 - Magdalena B.)

Hello, I ordered samples and perfume oils from you in mini packs and I decided to choose my wedding perfume. Among all I tried, Gold eventually won - thanks to its freshness and lightness in the beginning, which is tinged with a warmer and powdered hint of vanilla. It looks pleasantly optimistic for me, but thanks to the powder base it is also feminine and calm. I believe that I will be happy with my choice and Gold will remind me of my wedding day forever. (4/11/2018 - Jitka P.)

Too heavy scent. It reminds me more of a man. I ordered it based on a review- disappointment. (1/19/2018 - Monika V.)

Hello, thank you for a quick shipment with my favorite fragrance for the past year. Louis Cardin Gold is such a caress, the light powder stays all day long and when I think it doesn't feel, every time someone says - what does it smell so nice? ... a dream, the memory of summer and the beach, an excellent drink combined with the comfort of a holiday ... yes I agree. I have a whole set from you and it is nice to lay down this scent, of course there are also beautiful others that I order with Royal Musk in the leading position :-) but Gold is Gold. Thank you and I wish you a lot of satisfied clients (which you certainly have) (14/01/2018 - Renata K.)

I totally failed Louis Cardin Gold. I ordered it because it was the perfume of 2015. At first, about the first two weeks, I thought I "fired eight hundred". But then it came. I have it since spring and I depend on it. It is the first perfume I feel of myself in the afternoon, but in completely different tones than in the morning. In the afternoon, the sweet aroma unfolds into beautiful citrus. I order quickly to leave me :-). Thank you for bringing him back. (11/26/2016 - Jarmila O.)

With the purchase of Rooh AL Musk, I ordered a sample of Louis Cardin Gold. Once you import, I buy. That's beautiful! I haven't felt anything so breathtaking and balanced for a long time. No wonder today that this fragrance won last year's customers. I'm just afraid that I totally failed Arabs and how come classic perfumes ???????????? :-) :-) :-) (Sep 12, 2016 - Helena B.)

Hello Mrs. Lenko and Jano, a few minutes ago I received a package from you with Louis Cardin Gold, which I ordered according to reviews and ... my heart is pounding .... God, this is so beautiful! thank you very much for finding your perfume, thank you very much for the formulas I will try later, because at the moment I am out of Gold, for a beautiful pen, in short, tears come into my eyes, wonderful packaging, gifts and letter, with such an approach I have never, just NEVER met, from the next payout I order again and then again, because your fragrance, it is a very high level compared to the buy me, very expensive brands ... and that I am really perfume addict :-) You are amazing !! Have a nice, sunny scented day. (7/27/2016 - Marcela F.)

Hello Mrs. Lenko, I could not wait for the fragrant shipment from you, which arrived on Friday and for which I thank for this, also for gifts and samples. I ordered Louis Cardin Gold based on the composition, reviews and intuition of my picky nose :-) because I am very far from your shop. fragrant pulse points of the neck, wrists, lightly into the hair and scarf around the neck and went for a walk .. how the sun was shining and warm, the smell began to open beautifully and change.Introduction is really divinely citrus, then the saffron becomes more prominent at the same time as the sandalwood with a few drops of rose water and a little bit of vanilla, just as a whole and it all develops into a special refinement and fairy-tale fantasy that literally eats: In addition, this fragrance is really a holder, you can smell a few days on your clothes.

Good morning, dear, yesterday I received a shipment with ordered goods, thank you very much. Louis Cardin Gold is an absolutely fantastic fragrance to my liking and it seems to be a holder. I wish you a lot of satisfied customers. Yours sincerely and wish you a pleasant day (21.4.2016 - Hanka N.)

Louis Cardin Gold - I tried this perfume for the first time on a sample that I received from you as a bonus. I smelled and "took to the streets". I smelled like a scented scarf around me. But it happened to me - even repeatedly that a strange dog "ran from me" came to me - I was startled. And what did the dog do? He sniffed me! He just sniffed. As if he couldn't get enough. He probably liked the smell. We have a lot of dog owners in the place of residence, so after a while the same thing happened to me again. Simply - the smell likes not only people but also dogs. I ordered the scent in the autumn for my mother-in-law as a birthday present - she was thrilled. I haven't ordered it for myself yet - I have a long smell. But Louis Cardin Gold will certainly be ordered for me. The smell is beautiful. (Feb 8, 2016 - Jirina K.)

Louis Cardin Gold - Can't start summer again? Cool, fresh, spicy, unfortunately in a white-gold bottle wants to convince you that the summer is not over yet and calls to the sandy beaches, when the bodies are shiny from a tan, brown and beautiful in nature. Grabs, cools, tunes, kidnaps, lifts a man's wife and a man's precious half. Watch out for this inconspicuous cool spray of seduction. (Sep 17, 2015 - Stana L.)

The scent of this sensual perfume is like the key to the gate of Oriental dream. Gold delivers the shine of palace chambers decorated with precious tapestries on the walls, fluffy curtains on the windows, deep carpets on the floor, and shiny brocade-coated sofas with silk pillows. In the midst of luxury on an ebony table inlaid with ivory, an elegant white-gold flacon is revealed as a pearl, revealing the velvety soft caress of elegant, powdered vanilla. Its shimmer begins with the impact of a citrus wave dominating red orange with a pinch of peel. The fluffy comb will shatter in a moment in the calm surface of the warm, spicy fragrant spice to create a smoothly mixed essence for the incoming vanilla. The silent murmur of the slightly sweet aroma gradually increases in intensity, the vanilla is already fully present and accompanied with a gentle distance by a suit of fine sandalwood. Together they open the arms of a timid rose and slowly blend into each other into a soft powder glow that seduces the wearer with seductive intimacy and abducts the mind to a fairy-tale place. (04/12/2013 - Andrea Ž.)

L. Cardin Gold - looks like a scent of the western type. Citrus, freshness, iced alcohol-free mojito, mint, syrupy sweetness shattered by ice cubes. But after the first minutes, there is a change again. The wild freshness turns into an elegant scent of quince, oranges, all richly covered with saffron. Somewhere in the background with a head of roses, and at that moment it is clear that Gold is also oriental. (7/22/2013 - Simona J.)

Have you tried one of our perfumes?
Let us know
how you like it!
You might also like