Swiss Arabian Kashkha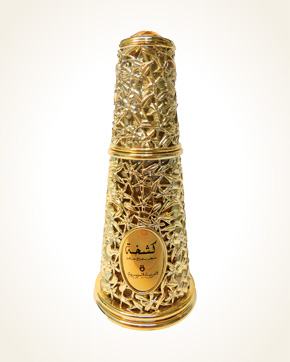 Swiss Arabian Kashkha
Eau de Parfum 50 ml
Out Of Stock
Eau de Parfum Sample 1 ml
In Stock
Notify me when available?
Description
Smell and change your view of the smell of the Orient, which, shrouded in mystery, opens the door, so far closed.
Imagine the haze blended with the image of the Princess Palace - flowers, fruits, hookah, bakhoor burning, ubiquitous luxury and refinement. All this is incorporated into this oriental delicacy.
The perfume will appeal to the first gust of bergamot with apple and cinnamon, the smell is carried like an Arabian dancer, who gets the attention of her surroundings by the first step - with a hand movement.
The fragrance hiding in a flask as if lined with gold lace gets you through its mysterious depth, the decomposing heat of the spices of the Orient, cardamom and saffron along with oud very finely set, undisturbing, or on the other hand emphasizing the beauty of oriental fragrance.
Kashkha is a perfume that can be worn throughout the year, its knees underwent its beauty, rose with sandalwood and oud is a wonderful combination. By adding a soft ambergris, slightly warm wood cedar and the sensuality of the musk, the fragrance becomes very irritatingly attractive. Try the fragrance of Arabian princesses and ordinary perfumes from our market will look like several times infused tea. The intensity and strength of the scent of the Orient is engaging and very addictive.

Customer Reviews (16)
Hello, over time I will rate Kashkhu Swiss Arabian EDP and CPO… It's absolutely beautiful !!! They are both perfect. CPO is more earthy than EDP. Flowers, fruits, oudík, clogs in great interplay. Just really like a princess, but forget about the delicate beauty in pink veils. This princess is in a black dress embroidered with gold thread and gems. It is a tender scent but at the same time dominant, for me it is not fresh but rather mildly irritating (provocative). That's how I perceive Kashkh. And it is definitely true that she is addictive :-). Otherwise, you are still great browsing the Anabis website and looking for what kind of beauty I will still buy. And it's so amazing that I still can't choose. I would like everyone :-). I used to buy Chanel COCO Noir and I'm still looking for a similar scent according to the composition, but also with the "something" I missed in it ;-). Maybe I'll find it. Thank you for being. You have another regular customer in me. Health (27.05.2022 - Tereza U.)

Kashkha - EdP I wish one could immortalize the joy of the moment and stay in it forever solid like a rock and forever be childishly innocent… At first I feel an incredibly soft oud, which seems to drink on the skin in the form of golden oil. At the same time, a sweet liqueur aroma hovers around it, thick and delicious until the saliva converges. I perceive saffron, which is mild and smooth and gives space to an intoxicatingly scented rose, fruity tones and warm cinnamon and sandalwood. Compared to CPO, the EdP version is less spicy, more floral and so lighter. For me, both are wonderful. (13/04/2021 - Dalia)

I had no idea how beautiful the tape was Kashkha. I am constantly surprised at how cheap all Arab perfumes are. The beautiful perfume bottles, and in some cases still hidden in luxurious cases, then the perfume itself is perhaps just a mouthpiece ... Recently, I longed for Shalimaru by Guerlain. I used Samsara, I still have it, but I have to say that compared to Arabs, they are really just such decoctions. And the price? I'd rather spend the money with you for this splendor. So I think again about Kashkha CPO, but now I have to wait for a while ... (26/08/2016 - Lenka S.)

Kashkha CPO + EDP - the same surprise as Mena. In the winter, when I tried, I did not understand how many of your clients were enthusiastic about it. Today I told myself that when I was suddenly enchanted by the previously unpopular Mena, which I try for the second time and Kashkhu and ... I can not believe it! Why didn't I first like it? Kashkha - a mysterious woman wrapped up from head to toe, only her bewitching eyes tell the beauty of a black robe. Her soul is hidden from herself, like her face and body to the eyes of others. He feels the burning desire for freedom, desires to find himself, to reveal all that is hidden. The passion that drowns deeply burns it, but it must remain unrecognized ... only the dark night knows the secret of her desires. So many times she whispered her wishes into the night, perhaps once ... the idea of freedom is incomprehensible as a predator sailing somewhere under the clouds. Something inside screams and goes out like a beast trapped in a cage ... Kashkha is the soul of women caught in a golden flacon like a golden cage ... almost every woman feels trapped sometimes and longs to run and run like water ... Where is the incredible depth in Arabic perfumes ?! Perfumes tell us stories, there is laughter and sorrow, desire and fulfillment ... This is truly incredible fragrance !!! Together with Sharina for me the most beautiful perfume. (06/08/2016 - Lenka S.)

Kashkha is my darling. He must be with me all the time. The scent remains on her scarves, underwear and the next day, all the time. It's something you go after and vacuum your literally the beauty. (4/30/2015 - Marta S.)

Kashkha - you will love or hate her. After all ... like all oud perfumes. Kashkha is full of life with all the contradictions that belong to him. It is hot and cold, heavy and light as a breeze… it is constantly changing. In a word - magic! (05/09/2014 - Lenka M.)

Kashkha cpo and edp - must not be missing, must be in stock, must not occur. The oil is dense and thick. First the narcotic spice shows up in conjunction with the red rose just before flowering. The leaves are dusted with delicate vanilla, dried to dust and strong sandalwood, smoking, hot to burning. There are citrus tones in the background, a bit bitter to dignify the sweet cinnamon. The fruit is represented by a juicy red apple and an unripe pear that squeezes a little against the apple and does not roll it. The smell is so hot that I feel as if my skin is burning. Edp holds the line of cpo, just lighter and develops faster, doesn't plunge, makes floral tones stand out. Kashkha is one of the most beautiful Arabian fragrances ever. Liquid passion. (Jul 8 - Simona J.)

Kashka - a strange mysterious fragrance that carries such a mix of everything .. fruits, flowers, spices, warmth and cold, it is so mysterious, it is both heavier and light at the same time, I feel the oud, but gently peeks and again he moved away not to bother, but just underlined the magic of this strange scent .. I have to smell it, she's such a changeable Arab beauty ... I was very curious about her, and even though she is not downright my type, she still seduces me anyway still smell it ... (March 18, 2014 - Romana V)

Kashkha - a wonderful scent. She was surprised by the smell of honeycomb with honey and then until the evening I could see her changes to fine resin. In these scents it is wonderful to be able to uncover so magically throughout the day. Like she puts me to sleep. ;-) She keeps her scent incredible. I think that women who are tired and experiencing all kinds of misery or just a daily routine can feel much better with the scents. (04/06/2013 - Jana J.)

I wanted so much to have Kashkha perfume in my collection. My husband fulfilled my dream for Christmas. It's a wonderful, unrepeatable fragrance, and every time I smell that fragrance I have a wonderful day. I feel like I am walking in the shade of palm trees and the fragrance of my beloved Kashkha flows around me. There is no way to describe it, the feeling of excitement about something mysterious. Only she can do it ... (13.1.2013 - Jaroslava B.)

Love. Hot, dark, sweet ... the one who seduces, caresses, burns, hurts, won't let you exhale for a minute, letting you out of his arms ... heaven, hell, paradise ... Dry red roses, sweet wood, smoky oud, saffron and precious spices ... The film slowly unwinds behind closed eyes ... hot desert air overflows the dunes ... galloping from afar an Arabian stallion, a figure of a rider in the guise of the Tuareg ... ... cut ... the narrow streets of an old Persian town by nightfall, the dark carpet loom in Isfahan… a tiny black silhouette, rustling with gold embroidered silk abaya, a sigh of pleasure or pain… and a bewitching look at the most beautiful eyes…… say everything… what the lips don't say…… hear heartbeat ... (21/12/2012 - Renée H.)

From Kashka I'm surprised how beautiful she is. I enjoyed Kashku in EdP this week and I really like it, it is also a bit of Black Oud style by P. Montale, it just has more roses and an oriental tinge that holds beautifully. Kashka - pink beauty, I was very surprised. The cpo form is stronger, the edp form is finer. The cassette is tempting, now I have caught the oil, which is so deep. I am more and more in need of these fragrances, it is simply a beautiful world in which I feel good and I cannot imagine life without Arabic fragrances. The most beautiful of your scents are the clouds that are carried behind us and then perfumed clothes - t-shirt, scarf, duvets - just what we crawl into - it smells good. (11/22/2012 - Sylva F.)

I have been following your offer for a long time because I am looking for something unusual and I am also very interested in the smells. Yours are very impressive and interesting. A few samples caught my attention and excited, so I want to share my impressions. Kashkha - wonderfully captivating oud, honey sweet and irritating. In the beginning, intensely sweet, but after an hour you will be so controlled that you cease to control yourself and long for more and more fragrance. (10/10/2012 - Miluše V.)

Kashkha, by its uniqueness, is at the same time sweet, bitter, dark, radiant, I would like to compare to love - it has all its forms. One moment she opens her arms to caress you, then withdraws and leaves you in doubt who is the one to care for ... how the witch reveals her secrets .. the hot passion that seduces everyone ... engulfs everyone and don't let go. (01/05/2012 - Petra H.)

Hello, I'm totally excited about Kashkha perfume. The effect of our whole meeting led me to total bliss :-). Thank you very much (29.11.2010 - Michaela Z.)

I have received fragrances ordered from you that exceeded my expectations several times. The smell of Kashkha is really unbeatable, even the patterns are beautiful, I try gradually. I'm glad I finally found a company that imports Oriental perfumes. They are completely different from the scents we are used to. It is true that Arabic perfumes need a long time to spread out all the essences, but after 20 minutes they carry us into a fairy tale of a thousand and one nights, evoking a wonderful atmosphere. I think it acts as a drug, fortunately legal. (May 5, 2010 - Iva Š.)

Have you tried one of our perfumes?
Let us know
how you like it!
Notify me when available?
You might also like