Rasasi Arba Wardat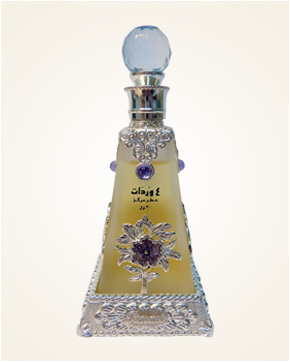 Rasasi Arba Wardat
Concentrated Perfume Oil 30 ml
In Stock
Concentrated Perfume Oil Sample 0.5 ml
In Stock
Description
Arba Wardat perfume oil contains a perfectly matched mix of flowers, precious woods and fruits… This is an Arabian fragrance? Where are our misconceptions that everything that is Arab must be properly heavy and impenetrable to European noses? Yes, Arba Wardat is very beautiful - a perfume for women that carries sensual tenderness and oriental touches.
Let's get to the afternoon picnic under the cool shade of trees, where the freshness of citrus bergamot blends in with the flower wave that floats all around.
The majestic rose slowly turns its lure to the tiny, white-blooming jasmine flowers, which will entangle everyone's head. The connection of flowers with sandalwood is very intense. Oriental depth of fragrance with honey touches velvety ambergris.
The conclusion dissolves in tenderness woven from the softness of lush clouds of heady musky musk.

Customer Reviews (13)
Arba Wardat CPO Flower Duet… Stunning jasmine and sweet rose in perfect harmony. And a few drops of lemon juice with a piece of bergamot peel to stimulate the senses. Oriental floral scent that pulsates with life and the joy of it. (April 13, 2021 - Dalia)

Hello, before I place an order, I'd like to try these three fragrances, out of the 10 fragrances I've tried, absolutely top Rasasi Arba Wardat for me, I know everyone likes something else, but this fragrance is really special and after trying of the remaining samples, I will certainly order it. Thank you in advance. (10/17/2018 - Eva R.)

Hello, dear and kind :-) I missed Arba ... it was one of the first fragrances I bought from you a few years ago .... then my friend picked up my empty bottle ... I already had them a few, so I gave it to her ... and now I got an order from Arby Wardat as a gift ... a beautiful, big bouquet that smells very strong, but disturbing, it's a nice smell that goes around space ... I succumbed to her scent again and had to order it ... she's really beautiful and even after years of having a lot of fragrances from you, I returned with pleasure to my first ... thank you. I wish a lot of satisfied customers as I am (9.11.2016 - Iva D.)

Hello Mrs. Lenko, In the evening I applied Arba after washing. I was a little scared, because against Louis Cardin's Gold the smell was much more pronounced. I wear it for the second time today and we are getting used to it. I have to admit that due to various circumstances I started to find a woman in me only when I was about fifty. He is still at the age of saying "mercilessly" the truth. And if she tells me that I smell beautiful, I can trust him 100% :-) Arba relaxes beautifully in the morning and I feel it, but it is not intrusive. That's what I like about Arab perfumes. No harassment around. Thank you very much again. Arba, flaskky and samples, which also smells very beautiful. Until one knows what to choose :-) Have a nice and cool. (Aug 17, 2016 - Stepanka V.)

Arba Wardat - today I took it for the first time in such a long time and I can't get enough, my colleagues and I rewrote it first, because I have perfumes at work, they have, so we were kind of scented ... my opinion of Arba? I'm happy with the highness, the fruit is completely mňamková, even when the boss passes, so smiling at me as the sun ... :-)) boss asked me what it is perfume, what smells so beautiful ...: ) girls across two halls feel that I went for the water ... thank you and once again my deep apology for this smell ... you are very nice and I will not let you, after all, I have ordered again and already according to the formula you gave me sent, I know how I will smell ... :) thank you and have a nice day (4.2.2016 - Jana C.)

Dear Sir or Madam. I also could not resist and ordered the aroma of Arba Wardat from Rasasi. I already own a few flasks with rare content from you, but Arba Wardat was a hit. My colleague describes this fragrance as "lover". True, the scent embraces and caresses me. Although it has only 4 ingredients, it is full and rich. I've even gone so far that after washing my hair, I smell the scented oil into the ends of my hair and go to sleep. Incredibly it smells the whole bedroom. Thank you for all the treasures that a European woman just can't get to. (Aug 17, 2015 - Gabriela V.)

Arba Wardat - for the first time in my life I ordered blind perfume, just according to reviews, so I also add. The perfume arrived on a classically harsh gray December day, when one is more likely to think about what else to prepare, clean and prepare for Christmas. But after unpacking, I was amazed by the really beautiful bottle and smell the smell? Beautiful, has really therapeutic abilities - indeed, like everything natural - all day I was in the mood as if the sun was shining: -) (December 5, 2014 - Jaroslava)

Arba Wardat is a wonderful fragrance, pure, fresh, which still makes you feel its interesting fragrance. It has excellent stamina. So far my one of the few formulas I ordered for the first time. (08/08/2014 - Radmila H.)

Arba Wardat - this fragrance, this is SPRING! Imagine a fully blooming palace garden and sunbeams all around. It's a beautiful spring day, everything is fresh, clean, light, airy and in beautiful colors. Each flower offers you its petals to smell, the sun's rays caress you, every step is condensed joy and happiness. That's exactly what Arba Wardat is! (01/07/2014 - Lenka M.)

Arba Wardat - now I rubbed with a stick and smell ... beautiful fruity-jasmine fragrance for the summer as perfect. Such fresh citrus purity ... how easily it is constantly changing ... once more jasmine, once citrus, plays beautifully with my sense of smell ... (March 18, 2014 - Romana V.)

Beautiful fragrance is Arba Wardat. Arba Wardat is directly autotherapeutic :-) .. and stamina also breathtaking ... (13.3.2013 - Erika L.)

I want to thank you for an unusual Christmas. As I had for several years, this year I was expecting my husband's cosmetics from Avon. My surprise didn't stop ... Arba Wardat is a scent that has completely won our whole family. And the flacon, I've never seen anything like it. Such a combination of fresh rose and light, (seriously) jasmine just doesn't meet. Citrus, possibly bergamot, is also added. She's beautiful and I'm excited about the smell. I also tried the samples and my surprise is not leaving ... I have not had any oriental fragrance, but now I have completely lost their fragrance. (12/27/2012 - Patricie B.)

Hello, a week has passed since I received your Arba Wardat perfume. I must say that I was wondering how it would smell and I was looking forward to the new scent. So far I have used the rather "European" smell. When I opened the package and saw a beautiful bottle, I was completely out of breath. He is unfamiliar and also flashy. And then, when I smelled, the smell charmed me. I put the drops where the blood beats under the skin and it smelled around me. My surroundings say I smell wonderful. (May 14, 2011 - Milada K.)

Have you tried one of our perfumes?
Let us know
how you like it!
You might also like