Ajmal Ahebbak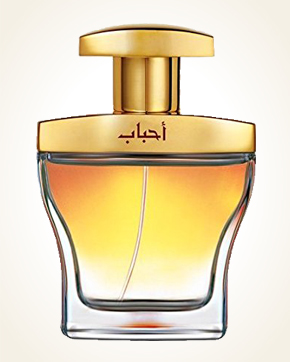 Ajmal Ahebbak
Eau de Parfum 50 ml
Out Of Stock
Eau de Parfum Sample 1 ml
Out Of Stock
Notify me when available?
Description
A romantic fragrance that combines tones of citrus and bergamot that blend with flowers, headed by ylang-ylang and roses. Comes sweetly irritating jasmine with beautiful iris and cedar wood. Floral tones are triggered by a sensual musk that adds softness.
In your imagination, try to enter the palace gardens, where you are accompanied at every step by very fine music, with which you perceive the smells around you more intensively.
You feel like one of the flowers, cared for by the love of gardeners, wrapped in a gentle and warm breeze, the dew that clings to you every morning gives you strength throughout the day, just as this perfume refreshes and brings a pleasant freshness and gentle desires to apply drop by drop on your skin.
The perfume water version is more fresh and citrus, it can be used by both women and men.

Customer Reviews (6)
Since yesterday I have a sample Ahhebak and it is absolutely amazing smell !!! As I brought it, I immediately tried and smelled until the evening. Today at work, everyone asks me what I smell. Thank you very much and I look forward to trying something new again. Or - for great success - I order the same scent. :-) (Aug 19, 2014 - Alena N.)

So I counted how many Ahebbaks I had ... well, I'm at number 10 !!! :-) I still like it, it is a fragrance that fits 100% to me. My husband tells me that he already has me with the smell, that even if I use something else, he wants to feel your Ahebbak :-) again, that the other smells are not me. (Jun 27, 2013 - Petra T.)

With the fragrance of Ahebbak I certainly don't spare myself ... I love the moment I dress in it. Curious and courageous patients then ask, "what do you smell so beautiful ????" :-) (June 17, 2013 - Ingrid V.)

The scent of Ahebbak is just great and my dance floor. I smelled the Ahebbaku pattern a long time ago, and now I had to make myself happy. I can see how toms will smell me tomorrow and ask what I smell like. (June 11, 2013 - Mirka T.)

... it's been over 3 years since I fell through the magic of Arabic perfumes. The consumption of my biggest favorite AHEBBAK is probably counting in hectoliters ... :-) And you know what else I love about your perfumes? That NEVER in our town or in the neighborhood smells like me:) (February 20, 2013 - Iva H.)

Hello, I have been ordering my favorite Ahebbak fragrance for several times and it still keeps enchanting me. Thank you for meeting the breathtaking world of Oriental perfumes, which has unprecedentedly expanded my horizon in the world of fragrances. (05/05/2011 - Ivana H.)

Have you tried one of our perfumes?
Let us know
how you like it!
Notify me when available?