Al Haramain Zuhoor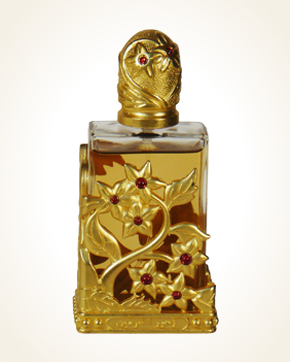 Al Haramain Zuhoor
Eau de Parfum 65 ml
In Stock
Eau de Parfum Sample 1 ml
In Stock
Description
Gently, golden lace in the shape of flowers, decorated with a flacon hidden in a gift box, waiting for your scent.
Apply a few drops to your wrist - smell, close your eyes - and suddenly feel like you're part of the captivating scent of flowers. Delicate fragrant flowers embrace you, are everywhere ...
With a lukewarm night, laden with rich fragrance of saffron and a whole flower bed of beautiful Taif roses, which are tinged with cool lily, perhaps with a little orange, and with the slight flurry of agar wood, the tenderly musky, musky musk comes to its senses. In its purity spread heavily captivating violets.
Enjoy perfume showers and let your surroundings fool you with an irresistible play of charm and seduction with this floral-purple miracle.

Customer Reviews (7)
Iris balm… I know that iris is not listed in the composition, but it doesn't matter. For me, this is literally an iris revelation. The most beautiful iris scent I've ever known. And that I knew a lot of them. Velvet iris, which is immersed in a butter bath made of dissolved ylang. The creamy ylang drops that clung to its purple petals are then soaked into a soft cashmere scarf. Finally, he wraps himself in a cloud of vanilla-scented musk powder. (13/04/2021 - Dalia)

Zuhoor is a bit of a mystery to me… and also another proof of how individual fragrance is perceived. On my skin, the composition acts as an interweave of violet and jasmine, in a ratio of one to one :-) But seriously: for quite a long time I really feel "just" these two flowers plus orange. Certainly I do not complain, violet forms a perfectly matched pair with jasmine, so at this moment I actually miss nothing… Ylang-ylang enters the scene, which gives the composition a light creamy tinge (yes, I know it is not in the composition, after all, jasmine also not , but what can I do if my nose does not give otherwise :-). And in the end he reports musk and wood. Lily, rose, oud and saffron do not perceive in any way, which does not matter, not all components of the scent of screaming remotely. After a long time, Zuhoor behaves like a "perfume inside out": the longer I wear it, the more fresh it is (the opposite is more common, hence the mystery). The overall impression? Sophisticated feminine fragrance with interesting development and perfect endurance. (11/03/2020 - Petra P.)

Zuhoor is mysterious, beautiful, exactly to my liking.And even like the male staff (May 14, 2015 - Hana F.)

Just like Hana Hegerová sings about a bathtub full of violets, after spraying Zuhoor I have a head full of violets, a head full of violets. It is a huge field of violets on which powder snow falls from the sky. And as it snows steadily, the powder will soon cover the violets completely. As a reverberation, I feel the scent of a luxurious ladies dusty powder. This fragrance was a clear choice for me right after the first scent, because my lay nose could instantly identify it - yes, that's her - a beautiful, long-lasting classic! A fragrance that you can take to work without bothering the surroundings with a heavy, conspicuous smell, but also in the evening when you want to capture and stand out. (Apr 13, 2015 - Zita Ř.)

Zuhoor - I really have no words, such a violet tenderness ....... I, as I write, so gradually apply your Arabic beauties, pretty slowly and patiently (although my curiosity screams with impatience :-D) and still all the way I smell ... and I'm in the seventh heaven .... God the violets are really intoxicating ... what you do to me Mrs. Lenko, I will not know what to smell sooner ... :-D (18.3. 2014 - Romana V.)

In my mind, the imprinted memory of the violet smells as well as the living flowers, I resisted their testing for a long time. Then came a series of Zodiac oils from Rasasi and for my fish sign was just presented a purple perfume. Curiosity prevailed and the result was a big surprise. I actually like it. That is why I did not hesitate and plunged into Zuhoor full of expectations. He did not disappoint. Concentrated natural violets explode from the impressive flacon. An intoxicating blow, after which a fall into the depths of the velvet embrace occurred. Dark blue night receding pale dawn. The last stars are extinguished in the violet sky. Sleeping, I drown into a soothing bath of tiny flowers. The warm body indulges in the intimate touches of floral tenderness. The increasing light reveals bowls with freshly sprinkled pink pot-pourri between soft, lily-fluffy bath towels and vases with artfully arranged irises. It's time to be born into a new day. I rub my musk cream into my supple skin and add a clean, scented shimmering powder. Today I will personalize elegance. Zuhoor combines Arab sophistication with European aristocracy. The old-fashioned palate-type fragrance irritates with its innocence and makes Zuhoor one of the most luxurious, expensive-smelling, feminine-alluring perfumes. A gentle, sweet, smooth scent with rapid development, from a solifloric, violet fragrance, which after a while declines in intensity and allows full roses to adhere to an adherent body with excellent durability. The Arab princess, a pre-war film star or a successful manager of the 21st century, is all connected by a violet boa, which she preserves as a precious treasure. He won't miss my shelf. (14/11/2013 - Andrea Ž.)

Zuhoor gave me Nicholas, even though I'm already a "big girl", but I have a broken leg, so probably because :-) When I saw on the box the inscription that it is made in the Emirates, so I was a little startled, oriental perfumes are still very heavy and for us "Europeans" does not smell ... but it is a big mistake, the fragrance is floral, violet, beautiful. And all the samples I've tried smells so good to me. So in the spirit of Oriental perfumes, I apologized. (Nov 30, 2012 - Vladka S.)

Have you tried one of our perfumes?
Let us know
how you like it!
You might also like