Syed Junaid Alam Zohah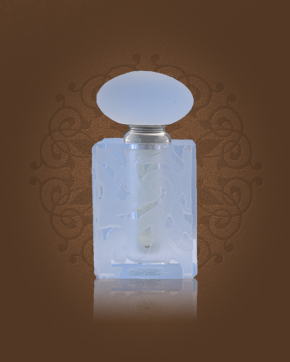 Syed Junaid Alam Zohah
Concentrated Perfume Oil 23 ml
Out Of Stock
Concentrated Perfume Oil Sample 0.5 ml
Out Of Stock
Notify me when available?
Description
Floral perfume is presented here in an exclusive crystal perfume bottle with polished ornaments.
The white flowers, headed by jasmine and ylang-ylang, are beautifully combined with the lily, which permits violet to match the harmony of fragility and tenderness. It's like a light touch of butterfly wings on your palm. Perfect harmony in this fragrance is associated with white roses.
The uniqueness in the combination of individual floral ingredients is lightly at the end, perhaps with a velvet hint accompanied by musk.

Customer Reviews (4)
Already with my first smell of Zohah, a picture of the noble Mrs. Arwen, surrounded by a delicate floral aura, came to my eyes and suddenly I found myself in the world of the Lord of the Rings. A gentle breath of fresh, fragrant tones of the mystical Rivendell, a delicate play and intertwining of round jasmine flowers with shaggy carnation buds and lily of the valley lilies. White flood of flowers with ease playing the organ of gentle harmony. Green mossy palms on which glitter like the jewelry of a small powder violet. A velvety soft rose on an island in the middle of a bubbling stream of cool musk. An area of peace, silence, innocence, and deep harmony, drenched in a bright golden glow. Beautiful elegant flower, whose breath of almost dreamy refinement. The magical touch of luxury. (3/5/2014 - Andrea Ž.)

Luxurious floral freshness of the European type ... but processed by an Arabian artist ... Glittering crystal, a stream of cool clear water, white velvet rose petals tossed on rusty silk, a pearl necklace embedded in an ivory box ... Innocence. Tenderness. Desire. Dream. A subtle introduction of freshly peeled citrus peel, the bitter freshness of sweet pomelo, fresh white flowers coming to the forefront as a gurgling waterfall ... jasmine, lily, rose, iris and a few lily of the valley flowers with powdered purple ... dew in spring lush green grass. .. everything closes light trace of soap and pure tender white musk. This smell is white. Fragrance for the bride ... Tender. The absolute essence of femininity. Quality, elegance and style. (01/01/2013 - Renée H.)

Zohah - it's icy inaccessible, it's the scent of "ma'am" if you have the courage, so shorten it - and and then lend you the refinement of the French, with this scent I will use red lipstick and feel like walking on the Champs-Élysées ... just lily, white rose, jasmine, a little velvet in the form of musk, that's excellent! (28/12/2012 - Petra Ř.)

Zohah - he is on the knees, the first smell took my breath away. White flowers with lilies so wonderfully mixed. Beauty hard to describe. Smell inspiring joy - I want to fly. It is the smell of happiness and announces the coming of the ever-green spring. I highly recommend to anyone who wants to make something special. Ghroob and Zohah, each smell is different - something like ying and yang, each from a different world, but they have in common that they are fabulous fragrances. I would like to have Zohah in a spray or cream, or as a lotion. (12/14/2012 - Sylva F.)

Have you tried one of our perfumes?
Let us know
how you like it!
Notify me when available?