Afnan Zahrat Al Khaleej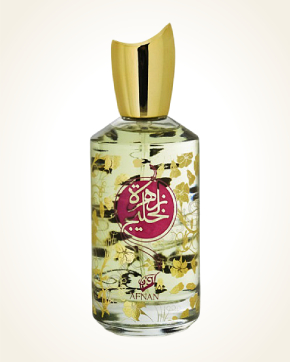 Afnan Zahrat Al Khaleej
Eau de Parfum 100 ml
In Stock
Eau de Parfum Sample 1 ml
In Stock
Description
Fruits paired with flowers will play a fresh score. The introduction includes lemon and sweet mandarin, to which its creamy smoothness resounds with fully ripe apricots, accompanied by the cool beauty of white flowers linked to the velvet of majestic red roses.
The crushed frosted lilies of the valley show a glitter in which they immerse themselves in the flowering, intoxicating fragrance of the lilies, and the delicate sophistication of violets. The fruit trace again appears, this time in the form of a spicy plum with delicious vanilla mousse.
The conclusion of this fluffy cloud is a faintly clean echo of musk with light woodiness, which adds sandalwood.
For a long time, Zahrat Al Khaleej was not on the market, now in a changed bottle, but with an equally enticing aroma waiting for your discovery, so I give it for a moment as a novelty.

Customer Reviews (8)
Afnan Zahrat Al Khaleej, another beautiful fragrance I love floral fragrances with musk wooooow. (21.02.2020 - Marie Š.)

A truly wonderful fragrance, even better from the first sniff and after lying. My stamina ... my wrists will last my smell all day. (Oct 21, 2014 - Mirka P.)

Hello, Thank you for the splendor of Play AL Khalej. It is flowery, slightly sweet with a hint of wood. Soft with great durability. I have it for about a week and this smell reaps success. I also met the question of what a beautiful smell it is. (Sep 15, 2014 - Jarmila Z.)

Play Al Khalej - read "play al Khalish" - play = flower, Khalish = bay. I can't speak Arabic, but Google has told me the translator And we have a flower bay. And literally. Roses and delicate violet are noticeable, in addition to the smell of apricot, which I like in perfumes. There is also a gentle tangerine, flowers and an oriental hint of fruit, wood and vanilla with musk. Everything is balanced and beautiful. The smell is also fresh. The perfume literally caresses. It's very gentle, strange, a little sweet, the kind you don't meet every day on the street. Orient certainly does not deny. (07/08/2014 - Jiřina K.)

Playing Al Khalej is a very delicate fragrance, true, I am used to stronger, but that does not detract from her beauty. Fragility concealed in a bottle. As if everything within her was vulnerable and incomprehensible, she escapes every time I try to understand it. The first impression is very clean, clear, like water running down a rock, like water in a mountain stream. And from that purity, a bouquet of lilies is laid on a sun-strewn dry tree stump. Around the violets bloom into large carpets and their heads bow to the wild rose. (03/07/2014 - Simona J.)

As a tide bringing a different shade of shimmering foam to each wave on its ridge, a velvety scent stream swirls over us. First he throws us into a soft cushion to bury ourselves between intoxicating rose flowers and juicy ripe halves of apricots. Almost honey sweetness is subtly shattered by a refreshing violet dewy with mandarin drops. Tiny flowers fall into the soft arms of a transparent musk, which smooths narcotic satiety and accentuates the delicate delicate beauty of flowers. With another peak, sweet vanilla fluffy sandalwood flows into a fluffy boa and evokes a desire to bundle into this sensual floral elegance with a fruity sparkle. (Jan 9, 2014 - Andrea Ž.)

Pleasant elegant bouquet of flowers and fresh fruit. The dewy petals of roses with tiny violet flowers complete the crystal bowl with ripe apricot fruits and peeled tangerines, with a trace of light musk, evoking a feeling of fragility and purity, with a little extra vanilla and extra sandalwood. The waking palace garden on a cold summer morning ... the first rays of the sun gently caress your face after the awakened night ... dries out the tears of love ... (21/12/2012 - Renée H.)

I want to thank for the Zahrat al Khalej fragrance, the first splash to say nothing - but but after the fragrance has developed, it is something beautiful to smell a strange fragrance, nor can it be described. It is probably original and nobody in my neighborhood has it. Everyone is afraid of Arabian fragrances being heavy, but it's not true. (11/3/2012 - Alena V.)

Have you tried one of our perfumes?
Let us know
how you like it!
You might also like