YAS Perfumes Love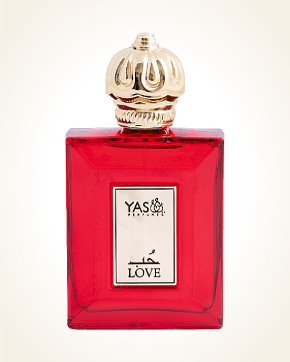 YAS Perfumes Love
Eau de Parfum 100 ml
In Stock
Eau de Parfum Sample 1 ml
In Stock
Description
Enter the world of an endlessly smooth, romantic line with Yas Perfumes Love. This luxurious perfume is a symbol of love and elegance, demanding the attention of you and all those around you, enchanted by a beautifully composed score.
The first whiff envelops you with the freshness of citrus bergamot, combined with spicy slices of ginger, in a harmonious connection with a floral accord.
Fragile pollen of blue lotus introduces airy and sparkling aquatic notes, to which are added creamy shades of ylang-ylang, entering the straw dryness of irises, creating a contrast between floral luxury and earthy refined character.
Sweet gourmet echoes of roasted almonds, mixed with gourmet whipped vanilla foam, create a delightfully delicate aria, a truly unforgettable experience.
Soft woody accords of rare woods end this unique composition with a captivating conclusion. Love, is an exclusive perfume that reflects the passionate and sophisticated essence of love. Its fragrance envelops you in beautiful floral notes, sweet deliciousness and a soft touch of wood.

You might also like