YAS Perfumes Hamasat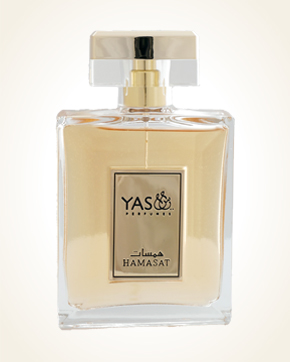 YAS Perfumes Hamasat
Eau de Parfum 100 ml
Out Of Stock
Eau de Parfum Sample 1 ml
In Stock
Description
An irresistible game of charm and seduction is ready for you in Hamasat perfume, which will enchant both women and men.
Orientally toned soft earthy saffron with several notes hidden in the skin, in harmony with the woody smoothness of oud essential oil, spicy chili peppers and the elegant aria supplied by sensual roses.
With velvety tenderness, he plays his score cashmere wood along with balsamic chords and the fluffy fragility of the musk that turns perfume into a powdered dream.
Delightful caress of milk foam will blend the finely creamy line of woods, headed by cedar and sandalwood, in which rich tones of animal skin will reappear, this time with a fresh echo of juicy lemon and apricot blossoms.

Customer Reviews (1)
Greetings to Anabis, Yas from Yas arrived yesterday - it won't let me share my impressions of Hamasat Hamasat from the sample - as I wrote on a perfume blog - A beautiful rich scent of deep red roses in a cedar grove. Unisex for any season. Practically linear, very fresh and thanks to the so-called red spice, which is saffron and chilli, which look slightly spicy here, it lasts 24 hours. Hamasat from a vial: I already understand why Yas Perfumes has information on Instagram that Hamasat can also be a wedding scent or other very festive occasion. Even my knees break from her spraying and my heart beats with joy, love, desire and tenderness at the same time. Linearity is there. Hamasat is a spicy-sweet and at the same time very fresh scent of red roses in a cedar park. There is also a fine cut oud and together with red spices, ie saffron and chilli, they give the aroma a completely unexpected and stunning expression. Then suddenly the taste of a cool creamy-fruit wedding cake with fresh blackberries emerges, where the pieces on the tongue melt away. The longer I wear Hamasat, the more attractive, softer and prettier it is. The border between the European and Arab worlds of perfume is almost indistinguishable. Endurance on my skin 24 hours (I feel it the next day). I consider Hamasat to be an investment perfume that is good to have on various occasions. Its deep red cover underlines the luxury. (25/04/2020 - Sylva F.)

Have you tried one of our perfumes?
Let us know
how you like it!
You might also like