Syed Junaid Alam Wishaah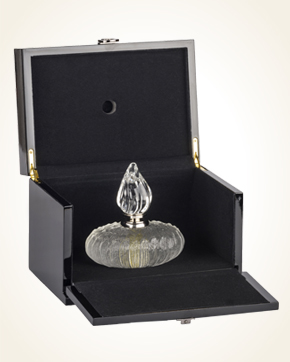 Syed Junaid Alam Wishaah
Concentrated Perfume Oil 8 ml
Out Of Stock
Concentrated Perfume Oil Sample 0.5 ml
Out Of Stock
Notify me when available?
Description
Is perfume a sin? - no - it's a passion, it's an addiction, it's a temptation ... So let yourself be tempted into the Wishaah fragrance, which is full of stories, full of heat, full of refinement ...
Perfume with a great pomp opens fruit line - juicy tangerine, slightly bitter bergamot and dark forest fruit. The warmth of precious woods linked to blackberries, blueberries and raspberries is a gourmet journey full of temptations and lure.
The dense velvety honey with gourmet chocolate attracts the most irritating of the unique oud oils, and together with the animal note of the skin creates depths into which it falls so beautifully.
From mystic encircling precious essential oils, we move into a floral arrangement with a wonderfully composed bouquet of roses, narcotic gardeneries and sweetish jasmine. The flowers resemble oriental spices, which are characterized by spicy sweetness and show a creamy vanilla with crushed cloves, fresh pepper combined with rare saffron and coriander.
She plays her chords at the final entry of herbal spiced patchouli in the key with amber warmth.
Perfume has a full, distinctive and very intoxicating fragrance, whose touch will accompany you throughout the day or night.
Concentrated perfume is more intense in the tones of blackberries, ambergris and oud oil, which is as if deeper, more connected to the fruit.

Customer Reviews (1)
Mrs. Lenko, good evening. I say the treasure called Wishaah CPO has arrived :-) It is perfect, luxurious ... And you are sold out! Thank you. I'm "sad", my beloved blackberries in Wishaah EdT are sold out ... Perhaps I'll be more lucky in the fall and be faster. Thank you very much for the presents, (13.6.2017 - Šárka Č.)

Have you tried one of our perfumes?
Let us know
how you like it!
Notify me when available?
You might also like