Al Haramain White Oudh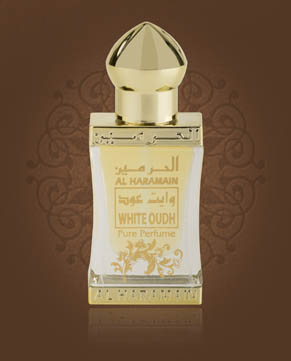 Al Haramain White Oudh
Concentrated Perfume Oil 12 ml
Out Of Stock
Concentrated Perfume Oil Sample 0.5 ml
In Stock
Notify me when available?
Description
The smell of white oud is strangely mysterious, slightly woody, with echoes of skin and roses, intended for both men and women.
The introduction is in a pleasant echo of roses, to which is slightly added oud oil and animal skin. The smoothness of the white musk in conjunction with the white oud creates a special aroma, to which is added warm-sounded sandalwood and velvety vanilla. The woody notes continue with the cedar, and the conclusion spreads again into a white oud attached to the herbaceous wood patchouli.

Customer Reviews (3)
Thank you for the perfumes, they are all amazing, I was most impressed by the smell of White oudh, it is beautiful, today I drove a car and found myself still smelling to be happy. I did not order it, it was probably a gift and when I was looking for it was among the men's perfume, but also suitable for ladies, so I will not hesitate .. (27.2.2015 - Jarmila K.)

WHITE OUDH - so it is incredibly interesting, beautiful. At first it is a little strong, strong and then it turns into a beautiful fine oriental perfume, but a complete bomb, as always. Have a nice day and a beautiful business trip full of beautiful scents. (1/14/2015 - Veronika H.)

Unusual, all the more interesting and nice smell is White Oudh. After application, the fragrant lines are stratified into the floors and so remain, the individual planes are interconnected by invisible fibers of white oud, but do not mix. At the very top is a tiny sweet-flowered floor, underneath it a leather floor characterized by the smell of new leather, from which a hearth of a blacksmith's workshop radiates to catch a smoky tinge after a while. Furthermore, we have a white stretch, musk grinds the skin into a smooth suede and vanilla sweeten it, sometimes feel the whiffs of almost caramel character. Last time we descend to a floor full of precious woods, whose warm aroma gently permeates into higher spheres and reveals a hidden sweet white oud. A particularly captivating fragrance with great stamina, which should be given enough time to fully unfold in the winter. She addressed me because she is in a pleasant contrast to my favorite fruit trees. (20/11/2014 - Andrea Ž.)

Have you tried one of our perfumes?
Let us know
how you like it!
Notify me when available?