Al Rehab White Musk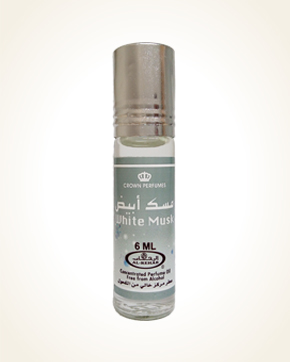 Al Rehab White Musk
Concentrated Perfume Oil 6 ml
In Stock
Concentrated Perfume Oil Sample 0.5 ml
In Stock
Description
A pocket pack of oriental perfume, the big advantage of which is the small size (6 ml of perfume) so that it fits even the smallest handbag or pocket. In addition, perfume is very easy to apply using a ball in the bottle cap. So you can always have your favorite fragrance with you.
As the name suggests, in this perfume you will find a pure, sweetly velvety scent of white musk. Despite the fact that you initially seem to perfume delicate, let it scent and he will give you his beauty intense musk fragrance.

Customer Reviews (33)
Thank you very much for quickly delivering the ordered samples two samples as a gift and a nice link. I do not know which sample to smell, it will want to repeatedly bite to enjoy all :-). First I tried Oil White musk, a gentle smell like the cream of cream, and I have a strong urge to keep scenting. I am looking forward and thank you again! (10/25/2018 - Michaela B.)

White Musk - everything has already been described ... :) Thank you for the wonderful smelling oil ... I painted in the morning and in the evening I still smelled the wonderful smell ... :) (2.9.2018 - Iveta J.)

Hello, thank you for your prompt order processing. And also thanks for posting user reviews, thanks to which I purchased the White Musk and I do not regret it. The fragrance seemingly inconspicuously develops, is pleasing and unobtrusive, yet with amazing stamina. And very pleasing reactions of the surroundings, even from my mother, who is my critic :-). I have always thought that Oriental perfumes are very strong and heavy scents (and therefore nothing for me), but I was wrong. I already have this beauty listed on my next order. Thank you and I look forward to next time. (25/07/2018 - Romana M.)

Hello. I just want to write to you that I bought perfume AL REHAB WHITE MUSK. I was in the store and the lady was waiting for me in front of the store and wanted to know what I smelled. She said she noticed as soon as I came to the store. So I recommended. I will definitely order again. I love fragrance with musk. Have a nice day. (01/06/2018 - Danuše H.)

White musk is a wonderful fragrance. Cool fresh fragrance that lasts all day (9.2.2018 - Kateřina P.)

I tried White Musk out of curiosity and I am glad that the smell did not disappoint me. Something reminds me, but she hasn't revealed her secret yet. It is pure, distinctive at first scent, sweet all the time. (4.7.2017 - Miroslava OF)

Hello, so I probably also became more dependent on your perfumes ... So far I tried only White musk, but immediately after the first smell I felt that I am floating on a cloud that drifts me into a fairy tale .... Beautiful , delicate fragrance. I will certainly try a larger package in the form of a spray and I think my search for other wonderful fragrances will continue. I wish many satisfied customers and all the best in the new year 2017. (6.1.2017 - Renata S. Brno)

Good morning, Mrs. Lenko, yesterday I cheered at a big discount for balls and immediately ordered for Christmas for friends. Of all the fragrances, White Musk is my favorite. Even though I have others, Soft, White Full, Dalal, and from Khalis ... I keep coming back to this pure smell all the time. It's a scent that reminds me in the morning when the sun shines, but only faintly, caress, the cool morning air is clean and a lot tempting to go out and soak up, so that's White Musk for me. Thank you, have a nice Sunday, Your (23.10.2016 - Lenka K.)

Hello, I ordered yesterday, today unpacked the package from you. I want to thank you for the incredibly fast delivery, great. I recently found a video on the internet presenting oriental perfumes. I like clean, sporty scents, and because the video talked about me as an unknown White Musk, like a very nice scent, I ordered it. Yes, it is really a smell that suits me and I probably will not use another. Thanks again with regards (26.8.2016 - Ivana B.)

Hello. I love your perfumes and the way you care for your customers. You are amazing and I praise you everywhere. Take care and let yourself have space for a little summer rest. I used White Musk on vacation last year (it's small and practical) and now almost a year later I used it again and my little daughter says, "Mommy, you smell like Croatia." This only proves the magical power of the scents and how they are able to write them into memory. (11/07/2016 - Petra K.)

My wife chose something for me / finally /. Her colleague from robots can't crawl with White musk. They would like to bathe in it. Well thank you. (03/07/2016 - Rudolf A.)

Al Rehab - White Musk 6ml - Pleasant and apparently very popular fragrance. But I have to admit that my enthusiasm for Musk al Aroosah and Royal Musk will not surpass. I tried to combine it, but both of these smells beat it with course. It is amazing how every musk is refreshed in the summer heat and you feel clean, fresh and fresh all day long. With these little ball bottles I enjoy being able to carry them in the smallest purse or pocket and keep them at hand. (Jun 30, 2016 - Lenka S.)

Last but not least, I have to write a review on one of my favorite fragrances :-) It's Al Rehab oil - White Musk. It was my first purchase from you sometime in February. I fell in love with the smell almost immediately and since then I have it in stock, I am running out, so I have to order again. My little daughter told me that she would eat me, that I smell wonderful, really like a bathed baby :-) and had a response from others. I'm glad it's back in stock. Thank you. (Jun 22, 2016 - Lenka G.)

White Musk-I wanted to try this perfume already in the previous order, but was not available, so now I did not hesitate .. today arrived fragrant shipment with treats and extra gifts, including a few novelties, which I described the composition I resisted and thank you very much again and also this way I wish you Mrs. Lenko and the whole Anabis team a beautiful fragrant summer. WhiteMusk charmed me for the first time (as well as CherryFlower), I would take both in a larger package :-) .. As if smelling a bathed and oiled baby :-), it is a really beautiful smell of purity, which I take with a calm conscience even in hot summer days .. (21.6.2016 -Irena Č.)

... White Musk is my wave, I did not expect such a wonderful and delicate scent ... (12.9.2015 - Jana T.)

White Musk - everything has been described ... :) thank you for the wonderfully scented perfume ... I painted in the morning and in the evening I still smelled the wonderful smell ... :) I combined with Musk Abiyad and has no mistake ... thank you ( 17.4.2015 - Jana C.)

White Musk - a beautiful, pure, silky scent like a caress, soft at the beginning and gradually giving off its intense musk splendor. I look forward to the next order of fragrances. (April 15, 2015 - Miloslava P.)

Beautiful, delicate, creamy, delicate yet intense and long-lasting fragrance. You just touch the skin of your skin lightly and smell of purity, as if you had just soaped in a bath with Dove foam. She's like my mother's caress that pleases the soul. But not only will he comfort and drive away the gloom, but he will also heal! In the evening I had a headache after a busy day and I was thinking about having to take a pain pill, but instead I reached for White Musk, rubbed my temples, closed my eyes and I was already in heaven :-) half an hour was in pain !!! It is a miraculous angelic scent. I'm happy to have her. (April 7, 2015 - Zita Ř.)

... I was anxiously waiting for the perfume to impress me, it was purity, no signs of chemistry, I was waiting for my nose whipping, because when I was a patient in Teplice Spa and met Arabian clientele, I always thought that the strength of their scent will defeat me. I am pleasantly surprised, I chose according to reviews and I must say that with every scent the perfume changes.It is a completely different culture than, our "perfume, but all the more mysterious and interesting. (24.10.2014 - Milena N. )

... I can say for myself that I am very happy about White Musk - it is exactly the fragrance that enchanted me years ago but somehow disappeared from the available market. Today - despite the rainy weather I have a sunny day thanks to you. (October 23, 2014 - Emilie K.)

Since I was using Musk toilet, I tried your white musk, and I'm excited. I can only confirm all the comments, it is amazing unpleasant, very pleasant smell, I ordered it twice and do not regret, and as I noticed today is not again. And the speed of delivery was amazing. Shop and fragrance can recommend everyone, seriously, for little money, hoooodne music. (01/09/2014 - Marie V.)

Hello, White Musk oil perfume is luxurious !!! The first impression is weak, but after a few minutes it starts moving beautifully and I can't tear my nose away from my wrist. It is really great thank you very much and I look forward to further cooperation. Not to forget thanks for a nice gift sample. (8/25/2014 - Martina Z.)

When I used White Musk, it seemed to me at first that I didn't feel anything at all, but after a moment when the perfume had come off, I was pleasantly surprised. This fragrance is not heavy, it is fresh with a whiff of white musk, after a short while the intense aroma of sweet romantic musk is added. White Musk I recommend to all lovers of sweet perfumes, it is ideal for daily wear. (20/08/2014 - Blogerky.cz)

I ordered this fragrance blindly, only according to reviews. I must agree with others, it is beautiful, clean, soft and tender like a feather. Perhaps every woman must like it. I ordered it also for my mother and she is reaping her first success with her and begging me not only for other samples, but she is interested in when to order again to join :-) (16.8.2014 - Radmila H. )

... thank you for quickly processing my order. I'm very happy to find you. I missed the White Musk oil perfume for 20 years. Years ago I bought this fragrance in Tuzex or after a good acquaintance under the counter in a drugstore. I can say that I really missed the smell and I remembered it many times. For me, the rediscovery of this perfume is double joy. This pure delicate fragrance has a long-lasting endurance. I look forward to further discovering beautiful oriental fragrances (August 10, 2014 - Jarmila Z.)

I only bought White Musk reviews and paid off. But some month I had to wait, the bush was sold out and therefore I just bought 2 pieces. Amazing perfume. (08/07/2014 - Věra H.)

I am very glad that there is a company like yours. I am very satisfied with the White Musk perfume and it is my favorite fragrance so much that I chose it for my wedding day :-) (17.3.2014 - Michaela D.)

... thank you very much for the fragrance package. "My" White Musk occasionally exchanged for another fragrance - and that I already have a line ... I always choose from the range of oils, because their fragrances are long-lasting and very well tolerate on my sensitive skin. I love fabulous miniature packaging because in a crowded purse are not even known. If I ran out in the morning without my favorite smell, it would be trauma :-)). So far I have no fragrance in my collection that I would not love. Thank you for your rich offer. (3/13/2014 - Alena V.)

These are the treasures that no one knows is deprived of much. I like fragrance very much, but only perfumes have given you the right dimension. Finally, I found a fragrance that is TRUE AND MY. The smell of WHITE MUSK is my fate. (June 25, 2013 - Táňa V.)

I've been waiting for White Musk for a month because it's amazing. Holds for a long time and is breathtaking. I have never attracted such attention as I am now using the fragrances of your Anabis. I attract attention for both men and women, especially in vehicles. I don't mind, on the contrary! and I am convinced that at that moment the words "This is Anabis, great, right?" With your fragrances I feel fresh, attractive and happier. (18.6.2013 - Alena V.)

White Musk - almost nothing at first, but after a while it unfolds with the sincere purity of the delicate white musk. At a meeting where we want to smell unobtrusively and discreetly ideal. (Feb 11, 2013 - Sylva F.)

Lace white… The sweet warmth of a clean body gently radiating through a light white lace. Hebká attractiveness. White Musk is like a body cream attracting its suppleness, which we long to delight into the skin. A light, creamy consistency with a soft nostalgia of sweet carnations, pleasantly cool and pampering senses. An uninterrupting relaxing scent with grace stuck in simplicity. (05/01/2013 - Dalia)

White Musk CPO The memory of the scent, the gentle soul of caress… Images of shards drowned in oblivion are like lost, condemned, thrown into the deepest pool. What was left of them? Pictures of shards ... In my mind I compose and in my fingers the time that the curse is, unchanging, in lace white ... (5.1.2013 - Dalia)

Have you tried one of our perfumes?
Let us know
how you like it!
You might also like