Al Rehab White Full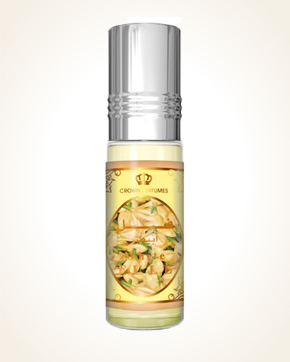 Al Rehab White Full
Concentrated Perfume Oil 6 ml
In Stock
Concentrated Perfume Oil Sample 0.5 ml
In Stock
Description
A pocket pack of oriental perfume, the big advantage of which is the small size (6 ml of pure perfume) so that it fits even the smallest handbag or pocket. In addition, perfume is very easy to apply using a ball in the bottle cap. So you can always have your favorite fragrance with you.
The flood of white flowers, jasmine, neroli, lily and lotus flower has come to enchant you and offer you a fragrance, a wonderfully composed blend of essential oils. Take this enormous embrace of a fully developed white fragrance.

Customer Reviews (4)
I wanted to test the smell of White full by reading the reviews. I rather use vanilla scents, so I wanted a change. The penetrating scent of jasmine covered everything around and perfectly. An hour later I was unable to recognize anything else, so I would rather give the bottle to another wearer. Not for me (10.02.2020 - Jolana K.)

White Full - thank you for this gift to my order, which I also carry with me now, although it is not necessary to smell repeatedly because even a small amount of this perfume has a great intensity and a lot of durability. that will lift one over the gloom of everyday life. (04/05/2016 - Irena Č.)

Otherwise, thank you very much for the gift White Full. It is really a flood of white flowers, tender but strong at the same time, just tap lightly on your wrist and last for an incredibly long time. (April 28, 2015 - Romana V.)

The name of the perfume perfectly corresponds to the character of the scent - all white flowers. It is an intense, totally natural fragrance of all the intoxicating white flowers you can only imagine. I feel mainly jasmine, lily and lily of the valley in their full intoxication. The smell is so strong that it is necessary to dose very carefully, so that its intensity and power do not bother the surroundings. Nevertheless, it can also be used as a first aid when traveling in a crowded mass transport or other limited space that you are forced to share with those who smell cigarettes, sweat ... ;-) a coupe where I would not like to breathe, how sick I was of the surrounding settled air. I applied the scent to both hands from my wrist to my elbow ... I closed my eyes and suddenly found myself, and everyone in the coupe, the greenhouse of the botanical garden, crowded from the ground to the ceiling with white blossoms of fully blooming jasmine , large-flowered lilies, exotic ylang, noble gardenia to small lilies of the valley. A blissful smile settled on my face and I enjoyed the rest of the journey with breathtaking :-) I am thrilled with White full, absolutely fulfilled my expectations. (April 11, 2015 - Zita Ř.)

Have you tried one of our perfumes?
Let us know
how you like it!
You might also like