Royal Diwan Western Valley Avenue London Vol 4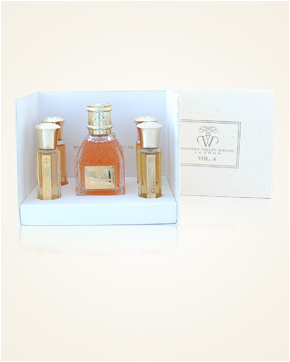 Royal Diwan Western Valley Avenue London Vol 4
Gift Set EdP 75 ml + 4 x 20 ml
Out Of Stock
Eau de Parfum Sample 1 ml
Out Of Stock
Notify me when available?
Description
Five elegant scents featuring endless flower beds, touches of juicy fruits, sensual musk hugs, mysterious echoes of oriental spices and rare woods. Enter the Orient, which was inspired by the magic of the East.
In this cartridge you will find perfume Vol. 4, EdP 75 ml and four other fragrances, each containing 20 ml EdP.
Western Valley Vol. 4
Number 4 is the main smell of the entire cartridge. The introduction is based on juicy waves of citrus, dominated by bergamot. Fresh mint continues into a light echo of lavender, which is replaced by a delicate orange flower with gourmet vanilla. Oriental spice is represented by cinnamon and thyme, which combine with precious trees, dominated by sweet cedar and sandalwood. The ending merges into the softness of the sensual musk and the faintly warm tonka.
Western Valley Vol. 1
Oriental tones with mysterious oud oil are prepared in the opening issue of the collection. The Orient attracts you into its fairy-tale world by the intensity of cardamom with aromatic coriander, to which soft cashmere wood is added to soften it. The soap earthy patchouli, along with the luxury oud oil, conjure up a striking striking contrast, to which its velvety ambergris and sensual muskiness add to its uniqueness.
Western Valley Vol. 2
The opening keys lead us a fresh way of bergamot, sparkling lemon and calming chamomile. The floral lure is dominated by ylang - ylang, jasmine and the delicate scent of violets. The uniqueness of this composition is in the charming combination of sensual musk and woody sweet iris, to which is added a soft ambergris. The final chords combine a damp woody, dry-smoked vetiver with a sweetish-sounding cedar and the magic of sweet styrax.
Western Valley Vol. 3
Here you can enjoy juicy citruses connected with oriental spices. Add a sweetish footprint with herbal-spiced patchouli and a richly silky, Moroccan rose. Slightly fresh bergamot in conjunction with warm woody ginger, creates a spicy peak aroma. The velvet ambergris dissolves in a bed of gourmet vanilla and the whole scent is spicy intoxicating.
Western Valley Vol. 5
The last issue of the five fragrance collection opens a richly geranium with creamy ylang - ylang and rare saffron. We continue with white charms of jasmine, cool lily of the valley and tenderly delicate Bulgarian roses. The warmth of the scent is with traces of sandalwood and musk sensuality, which turns to the damp woody smell of moss. Thanks to the aroma of the forest, the perfume is very variable and its key ranges from white flowers to roses to trees.

Customer Reviews (2)
Western Valley Vol. 4 - So this is the original, I do not remember a similar smell. Although the first lightning class looked like "gingerbread", the fragrance immediately leaves this direction and sets off on its own. It is a liqueur blend of woody leather with star anise and fennel, possibly tarragon and green coriander. There are also dry lavender flowers, hidden rather than obvious, and a piece of oud and delicious tonka. The overall impression very vital, has the power to warm up even frozen. My second favorite. It is not only original but also addictive. Western Valley Vol. 1 - Refined and sober oriental style chypre. Built on the harmony between the non-offensive citrus-branched first floor and the Arabian ground floor with delicate oud. There is coolness at the top, comfortable powdered velvet at the bottom with coriander and cardamom. Balanced and elegant, it does not scream but charms. Western Valley Vol. 2 - Fruit bitter. The bitterness is herbal, reminiscent of wormwood, although according to the composition it will be the combined forces of chamomile and bergamot bark. I have noticed it several times, and this time I have finally realized that the Arab perfume has a bergamot of herbal bitter in its stock. Here he transforms a fruit blend of citrus with neroli and jasmine into something very sophisticated. The bitterness is then pleasantly irritating like a hairy gooseberry skin. Tip for Gentiane Blanche lovers, you might like this one. Vol. 2 one of my favorites, the whisper of silence and the majesty of unspoiled nature. Western Valley Vol. 3 - I am especially enchanted by the first impression of an icy glass. Ice-dew glass is bergamot bark and slices of fresh cut ginger. The cold recedes quickly, and as it moves away, the more pronounced the mature woody component, overgrown with rich roses and softened with velvety loose ambergris, is more pronounced. Balanced elegant fragrance again. Western Valley Vol. 5 - This scent would be a Dutch still life with an oak wood background and a elaborately arranged bouquet and sliced lemon. He does not scream, but gradually shows what beautiful he has. Flowers are small, there is iris root, lilies of the valley, blooming geraniums, ylang ylang. They peek out of the disciplined branch and musk, maintaining a uniform mood. (29.9.2015 - Dzona - Breakfast in Perfumery)

Western Valley .... although I have only a sample of this exclusive perfume, which is all-over-earthly seductive, where juicy citruses dance under the direction of bergamot, which is slowly replaced by lavender, delightful vanilla and spices, to which rare woods add. Just sit down and listen to Andrea Bocelli or Luciano Pavarotti. I want to thank you again for having such magical scents, I wish many happy customers (24.9.2015 - Miloslava P.)

Have you tried one of our perfumes?
Let us know
how you like it!
Notify me when available?