Viali Supreme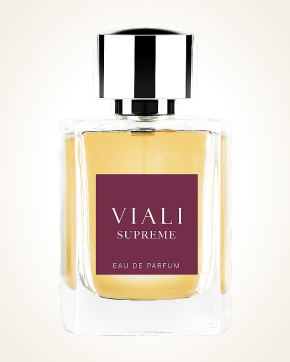 Viali Supreme
Eau de Parfum 100 ml
In Stock
Eau de Parfum Sample 1 ml
In Stock
Description
Passion, elegance, sensuality - this is the Supreme luxury women's fragrance, with a celebration of victory and a desire for adventure.
The fragrant concert opens gently with subtle nuances of the fresh juiciness of the pear, in which its aria will resonate with flowers and soft, sandalwood with a powdered creamy chord.
Richly sweet, Ylang - with notes hidden behind the touches of a creamy banana and a jasmine hint in the background, bringing to the fore the vibrant beauty of noble tuberosis. Flowers are strongly dominant, with refined refinement throughout the Supreme.
The lightness of the air chords rising to the surface of the floral lure, these are pleasantly irritating tufts of tenderly musk musk, with a few shades of pink pepper, adding to the composition a spicy pink line with the promise of romance.
The alchemy of irresistible, deeply seductive tones of majestic ambergris, resounds with velvety honey smoothness, letting in its bed several earthy shades of soap-green patchouli.

Customer Reviews (1)
I once had an amazing dessert - a caramelized pear in cream with almonds - and this scent reminds me of it. I enjoy it somewhere in the Mediterranean, near the garden, where jasmine and narcotic tuberose bloom. And someone nearby lit quality incense sticks nearby. Dangerous combination… So much so that I don't want to go home at all. (31/05/2020 - Petra P.)

Have you tried one of our perfumes?
Let us know
how you like it!
You might also like