Afnan Velvet Musk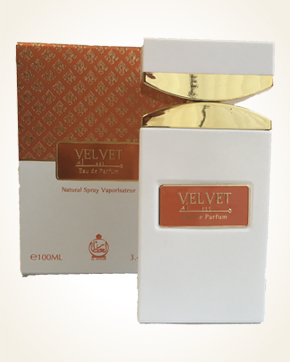 Afnan Velvet Musk
Eau de Parfum 100 ml
Out Of Stock
Eau de Parfum Sample 1 ml
Out Of Stock
Notify me when available?
Description
Afnan's charming line is called Velvet and its three fragrances - Musk , Love and Oudh , can be worn alone or combined with each other to create a distinctive fragrance.
Velvet Musk , as the name suggests, takes us into the cuddly seductive softness of white musk.
The fluffy fragrance opens with violet flowers and green leaves that are completely immersed in a cloud of white musk. The silky tenderness of purity attracts several echoes of precious woods, which lead the fragrance to a deeper tone.
The fragrance plays with you, like the summer air after a thunderstorm, from which you feel fresh, clean and at the same time intoxicated.

Customer Reviews (2)
Velvet Musk so it is a complete bomb, I have just a sample, but I still order the same size package ... violet directly magic and envelops her mysterious musk, wrapped in water tones and I feel some wood and it all blends into one náááádherný whole, well wow, I couldn't even sleep at night, my husband also likes it, he even took my hand under his head and smiled ... :-))) which is good ... what is wrong is that I discovered Your site, because we still do not have finished windows ... :-)) Well, hopefully sometimes it will work out :-) :-)) Thank you for the perfume Jameel, which you sent me extra, thanks, girls ... :) I'm superb satisfied, I will not buy perfumes anywhere else :) (22.3.2017 - Jana C.)

Have a nice day, I must again thank you very much for yesterday's visit to you at the most beautiful place for me in Brno :-) You suddenly transfer to another, dream world, which is very rare nowadays. Thank you very much for the VELVET MUSK perfume - it is a beautiful, pure fragrance, a bathed baby and a green meadow after the rain :-) (10.3.2017 - Lenka G.)

Have you tried one of our perfumes?
Let us know
how you like it!
Notify me when available?
You might also like