Afnan Velvet Love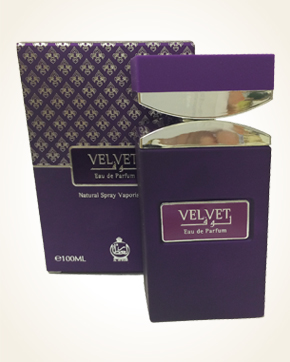 Afnan Velvet Love
Eau de Parfum 100 ml
Out Of Stock
Eau de Parfum Sample 1 ml
Out Of Stock
Notify me when available?
Description
Afnan's charming line is called Velvet and its three fragrances - Musk , Love and Oudh , can be worn alone or combined with each other to create a distinctive fragrance.
Velvet Love , a captivatingly seductive beauty, designed for women.
Sweetly intense aroma of hyacinths of all colors is complemented by exotic pineapple, which in conjunction with flowers becomes gourmet delicious. Among the other flowers, the fragrance of the delicate white flowers of jasmine and the luxurious iris is added, followed by the sweetish resinous scent of pink pepper.
The balsam-like patchouli intersects its line with a dry vetiver tone and smoky amber.
The fragrance of vanilla pods appears in the full tone of the perfume, but as if it was dusty, such a non-sweet, accompanied by freshness with an inviting musk.

Customer Reviews (3)
Another enchantment was Velvet love from Afnan. This is so cool. Although we had a sample in advance, according to which Velvet love colleague ordered, the first spray was fireworks, which later settled in a beautiful floral-fruity aroma. And the samples we received ... but it's terrible, because everyone is beautiful and distinctive, and we know we can't have everyone. But surely we will always do little joy in life and we always order something fragrant from you. Thank you very much and you already have an order with you :-) I look forward to it. I wish you a pleasant fragrant day. (10/17/2017 - Ivana J.)

Velvet love - is a soft, long-lasting fragrance. The sun shines, the wind plays with the hair, and with every movement of the body you can feel this refinement. Too bad. Warm thanks (16.9.2017 - Zdena B.)

Hello, so I ordered Velvet Love ,,. Beautiful scent of iris, hyacinth and pineapple is really just a little to illustrate, a little sweetness, perfume is very luxurious and elegant, the jeans can not imagine it, the fragrance is luxuriously-floral. Every Arabic perfume has something in it that is missing from commercial European perfumes, everyone has the feel of the sea, the sun, the sand, the marketplace, the palace, and the beautiful gardens full of flowers. Since I often visit these countries, I can afford to say that these fragrances always carry me there when I am here in the Czech Republic. (4/16/2017 - Kateřina M.)

Have you tried one of our perfumes?
Let us know
how you like it!
Notify me when available?
You might also like