Afnan Tribute Blue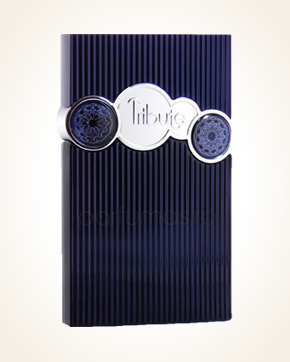 Afnan Tribute Blue
Eau de Parfum 100 ml
Out Of Stock
Eau de Parfum Sample 1 ml
In Stock
Description
The cool spray of ice is accompanied by a warm wave of spices and woods - these are the introductory chords of a men's, captivatingly seductive scent.
Perfume with great pomp opens a very fresh combination of pepper and ginger. Spicy notes of nutmeg, anise and saffron are added, complemented by a floral stroke of lavender.
The entrance to the rare trees is lined with cedar and sandalwood, which turns its shadow play to lush green grasses, mysterious echoes of mosses and damp clay.
Successful combination of slightly bitter nuances of lime peel, pure soft musk tones with dry tone of tobacco leaves, this fragrant concert completes into a complete feeling of luxury, men's elegance.

Customer Reviews (4)
Hello to Anabis and also to Mrs. Jana, who prepared my order perfectly and delivered two gifts for the whole order. Thank you very much for that. And I also want to thank you for the perfect services and goods. Delivery was very fast, the next day he could smell new samples of perfumes. I was very impressed by the perfume Afnan-tribute blue which is absolutely great, he immediately transferred me to the Orient and enchanted me with warmth and spices ... hmm amazing. I have over 30 samples so I'm going to sniff and gradually add comments and reviews. Thank you very much (21.06.2020 - Jakub.K)

Thank you for the excellent offer, thanks a lot and look forward to the samples. Perfume Tribute Blue has become a classic for us :-) it is not possible to replace it (21.8.2019 - Ondrej U.)

Dear friends in Anabis, thank you very much for the immediate processing of my order. First of all, accept my big thanks for the presents and oil samples. I ordered samples of difficult decisions. Now I'm sure I won't make a mistake with a gift called Afnan Tribute Blue. The perfume got me completely. It exactly matches your description and is irresistible. Elegant, attractive, charming, gentle and yet provocative. I write to you on Monday. Once again a big thank you for being and how beautiful you work. I wish you good health and success. (10/28/2017 - Alena V.)

Tribute Blue, it is a shower ..., I feel summer and holiday, hmm, just make it, Dad will like it, it is purely male smell, really bombastic .. (29.3.2017 - Jana C.)

Have you tried one of our perfumes?
Let us know
how you like it!
You might also like