Al Rehab Tooty Musk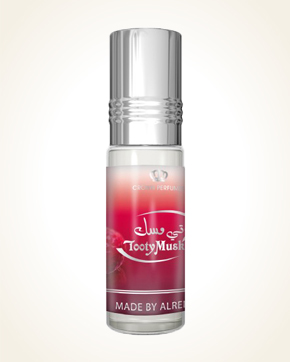 Al Rehab Tooty Musk
Concentrated Perfume Oil 6 ml
In Stock
Concentrated Perfume Oil Sample 0.5 ml
In Stock
Description
A pocket pack of oriental perfume, the big advantage of which is the small size (6 ml of perfume) so that it fits even the smallest handbag or pocket. In addition, perfume is very easy to apply using a ball in the bottle cap. So you can always have your favorite fragrance with you.
Raspberry, lily and musk - a delightful combination of fragrances that will enchant you at first inhale. Directly addictive aroma of ripe and juicy raspberries. The longer this perfume has on your wrist, the more you will feel raspberries.

Customer Reviews (8)
Greetings Leni and Jani! Thank you very much for the package, which arrived again at lightning speed. But I also have to thank the local addicts who write their impressions of scents, because thanks to their impressions I order.And I have to agree! With every smell just blissfully close my eyes ... (4/21/2017 - Lenka D.)

Tooty Musk CPO 6 ml - Mrs. Lenko, thank you again in advance for the quick processing of my order, colleagues at work are happy with White Musk, besides the breathtaking Naseem Lamsa longed for something new and again I chose according to composition and intuition blind. This time I did not unpack the perfumes right away, but I kept them for the evening and now I gradually taste and enjoy while writing reviews .. Tooty Musk - At first smell..that is so drift !! .. so many raspberries I did not expect, they are timeless raspberries, raspberries and raspberries again ... full of a handful of ripe and juicy raspberries that, after scenting, lightly cover the petals and musk petals - all of this is held together comfortably. A wonderful raspberry-floral fragrance that got me just like in the beginning Cherry flower. I rank among the spring and summer favorites, I will definitely repeat. (9/23/2016 - Irena Č.)

Tooty musk - arrived today at lightning speed. I want to thank you very much for processing my order quickly. The smell is beautiful. I won't buy perfumes elsewhere. It cannot be compared to European perfumes. I think I'm going to be an addict. Again, I look at what I would order. How I could live without Arab perfumes :-)))). I have always had the idea that the smells are too heavy, but the opposite is true. (29/06/2016 - Marie J.)

Tooty Musk-incredibly amazing fruity aroma full of juicy raspberries, something wonderful, intoxicating, simply magical, another indispensable piece in my collection (May 18, 2015 - Miloslava P.)

Tooty Musk is a spectacular raspberry whirlwind - intoxicating, captivating, requiring repetition. At the beginning I find myself in the middle of a garden raspberry laden with large dark pink fruits. The intense aroma of ripe raspberries uncompromisingly attacks the olfactory cells and literally rolled them with a vivid image of juicy berries inviting to bite. Nearly converging saliva is stopped by developing the next phase in which I suddenly am in the kitchen with a cup of hot raspberry tea in my hands. Gourmet sucking on rising steam, gentle tea tones smooth the pure fruit base and add a spark of seduction with sweetened vanilla. I can't get enough of this wonderfully rich, warm, jubilant variation to underscore the feminine charm, with excellent stamina and a pleasing cloud that firmly anchored the Tooty Musk in the gallery of indispensable fragrances. (26/12/2013 - Andrea Ž.)

Tooty Musk - A paradise garden full of abundance. Rich fruit, lots of juice, strawberries, raspberries, blums, peaches and everything nicely wrapped in a musk cloud. And bees buzz, tall grass hides chamomile and marguerites and cats lazily lazily on the window, enjoying the hot August sun. :) (May 15, 2013 - Simona J.)

But I was most impressed by it - TOOTY MUSK !!! This is an incredibly amazing fragrance !!! Prostě kouzelná !!! I'm totally out of her !!! Really fresh raspberries combine with the smell of purity that fits my exacting requirements! And I put it on my wrist, even when I go to bed, and smell the nose before I fall asleep. (2012-04-02 - Romana V.)

Today I received from you a package of perfumes .... I can say that it is something beautiful and so far unknown to me. Tooty perfume is beautiful ... and the smell I have never met before. It takes just 3 drops and it smells your creature and most importantly the smell lasts. When I came to visit my parents, my father told me for the first time in my 35 years how beautiful I smell ... I bow ... ANABIS are beautiful perfumes beautiful work for a man with a heart ... oh we mortals at least can take us to high ... (January 2012 - Andrea S.)

Have you tried one of our perfumes?
Let us know
how you like it!