Abdul Samad Al Qurashi The Legend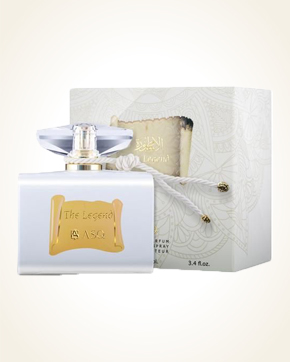 Abdul Samad Al Qurashi The Legend
Eau de Parfum 100 ml
In Stock
Eau de Parfum Sample 1 ml
In Stock
Description
The perfume masters of Abdul Samad Al Qurashi, in a pair of perfumes - The Legend Gold in a gold wrapper and The Legend in a white bottle, have tried to combine the most exclusive fragrant essential oils so that they can create a refined and luxurious fragrance full of the mystery of the Orient.
The opening tones are captivatingly displayed in the honey bed of velvet ambergris, which takes its magnificent scented rose from Grasse into its embrace, with its full to intoxicating scent. In this connection, amazing chords intertwine with floral, fresh, powdery cuddly to slightly warm gourmet - a centenarian rose with ambergris magic and play with each other, making it more and more fragrant.
In the flower wave we continue to gardens full of straw-sweet, spicy echoes, yellow daffodils enriched with woody sandalwood.
The harmony of flowers and magic-permeated incense reveals deeper keys that surround themselves with a special calm hovering above the balsamic spice echo.
Sensuously soft dot shows a fluffy musk, which will completely absorb you with its tenderness.

You might also like