Abdul Samad Al Qurashi The Legend Gold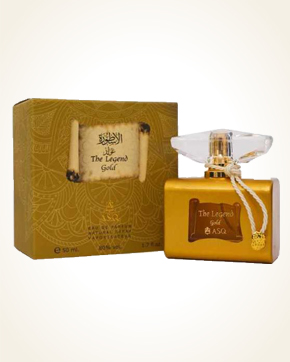 Abdul Samad Al Qurashi The Legend Gold
Eau de Parfum 50 ml
In Stock
Eau de Parfum Sample 1 ml
In Stock
Description
The perfume masters of Abdul Samad Al Qurashi, in a pair of perfumes - The Legend Gold in a gold wrapper and The Legend in a white bottle, have tried to combine the most exclusive fragrant essential oils so that they can create a refined and luxurious fragrance full of the mystery of the Orient.
With the first drops you enter a mysterious sounding fragrance, bewitching oud essential oil. With her onset it is shaking, but give her a moment to develop into full beauty and give you her treasures of warm woodiness, soft caress and a very long smell that matches the other essential oils and creates the true beauty of perfumery.
The flower concert will sound its serenade in the main chords of roses and charmingly smelling white daffodils. Now begins the phase of fresh inhalation, gently creeping a wispy cloud of musk with the dusty tone of vanilla.
The hypnotizing incense melts into the warm velvet amber bed and the final output is the key of sandalwood with a mixture of flowers in the background.

Customer Reviews (2)
Just wanted to share my experience with Legend Gold from ASQ. From many Arabian perfumes I tried this one is really something I like. Still have a sample after one year and play with it. Very feminine, very uplifting, and chic. It reminds me some expensive western perfumes with an Oriental touch of fragrance natural authenticity. And today it really surprised me. Though Narcissus is given in the pyramid I always felt it quite subtle, not really coming out. But today in the afternoon, after appyling the perfume last evening around 7 pm, what means about 18-20 hours after, I started to notice that there is a fresh narcissus smell wherever I go. I didn't even realize in the beginning it's from me. It wasn't overpowering, no, it was as little breese bringing this aroma from a flowerbed. I felt it for a couple of hours and then stopped noticing it. Probably got used to it:-) So congratulations, ASQ, you perfume doesn't stop to please me:-) And a special thank you goes to Anabis.com Team who do their job professionaly and ship so speedily. With best wishes to all, (15.2.2019 - Lana, Netherlands)

The Legend gold-beautiful orietálka-spice, wooden-well simply luxury of high quality raw materials. power floral scent. (1/17/2018 - Zdena B.)

Have you tried one of our perfumes?
Let us know
how you like it!
You might also like