Afnan Tasneem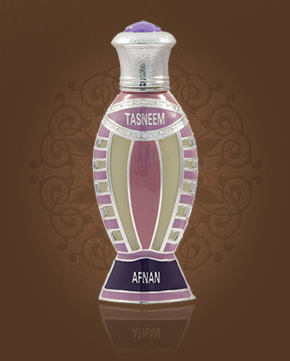 Afnan Tasneem
Eau de Parfum 50 ml
Out Of Stock
Eau de Parfum Sample 1 ml
Out Of Stock
Notify me when available?
Description
Afnan's Tasneem perfume presents a breathtaking interplay of flowers in combination with trees and fruits.
The floral lure of roses, jasmine and lilies combined with a touch of peach is very addictive. The embrace of floral tones along with a light trace of precious woods shows a pleasantly flowing scent, to which is added a soft musk and icy freshness of lily of the valley. Warm and sweet waves are triggered with sandalwood, which shows a bergamot with a hint of citrus scent and in the background a trace of a vetiver with its typically earthy woody tone. In the end, the citrus wave intensifies, but its excessive freshness is smoothed by a dry vanilla pod.
In the perfume water, woody species predominate in the initial tones, which gradually spread into a floral embrace. In full bloom, the aroma is rather fresh and only with a touch of sweet sandalwood.

Customer Reviews (2)
Tasneem - a fragrance as light as a breeze that envelops you in a magical veil of flowers and fruits. Even though it is not the smell of a "heavier" caliber, its stamina is great. It will be amazing for a young lady or any woman who likes delicate fragrances that don't irritate the surroundings. It will bring a sense of well-being, joy and happiness to its wearer. (Sep 13, 2014 - Lenka M.)

Hello, thank you for the fragrant package. Even when I opened the box everything smelled beautiful, and I have not even unpacked the boxes. Tasneem is a treasure, it is a fragrance full of seductive tones, I cannot guess exactly what is there, but it reminds me very much of Zahrat Al Khalej, what you no longer have. The smell is smooth, even though it is a bit powdery, several tones reminded me of some nice cosmetics, some lipstick, it is beautiful and thank you very much. That's my fourth great perfume from you. Have a nice day (6.11.2012 - Věra L.)

Have you tried one of our perfumes?
Let us know
how you like it!
Notify me when available?
You might also like