Khadlaj Tamayaz Silver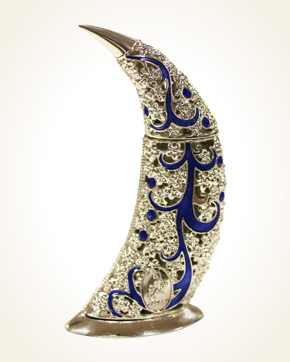 Khadlaj Tamayaz Silver
Concentrated Perfume Oil 20 ml
Out Of Stock
Concentrated Perfume Oil Sample 0.5 ml
In Stock
Description
The interplay of woody plants with oriental spices shows us at the beginning a warm, irritating fragrance for both men and women.
The spicy trace of sweetly-bearing clove and cinnamon is mixed with tiny linden flowers, cool lavender and geranium colors. The flowers invite you to amazing chords of other spice tones. There is a creamy vanilla seduction concert, to which is added a spicy-sounding nutmeg and a few balls of fresh pepper.
Juicy orange and bergamot combine their freshness with the slowly creeping earthy patchouli and the woody echoes of oud oil.

Customer Reviews (4)
Good day! Thank you for the absolutely quick processing of the order. From the supplied samples, I immediately tried the silver Tamayaz. It's gorgeous, that's why I order it. We will use other samples later. I wish you good health, happiness and lasting business success. (11/05/2020 - Jana V.)

Tamayaz Silver constantly makes me wonder if the scent is warm (due to vanilla, cloves and cinnamon) or cold (citrus and lavender). The heating and cooling components are mixed so perfectly that the scent still leaves you in a shimmering tension. I also enjoy the spicy chord of nutmeg and pepper. And I feel my beloved linden flower… in combination with vanilla I can smell it. I like the original Tamayaz, but its blue-silver brother directly impresses me with its bitter-sweet-spicy-fresh scent and beautiful bottle. (05/05/2020 - Petra P.)

Wonderful rather men's, but in a word the fairy tale Tamayaz Silver - for me number one. (12/09/2018 - Tibor H.)

Hello Mrs. Lenko, somehow stupid pc ..... I can not send thanks for the shipment directly to your eshop. never mind ...... so many times I thought that I will not order anything yet .... I have so many beautiful perfumes .... I change them according to mood.and again I could not resist .... Tamayaz blue ... sheer hit the black. I am totally blown away by the beautiful smell.It is a little men, but on me sounds pretty beautiful. The speed of your perfume delivery has spoiled me and when I order something over the internet and it's not the next day at me ..... so I say .... golden ANABIS. Thanks again .... and again browsing on the website ..... what would be useful ..... about everything ... Your satisfied customer (26.6.2017 - Magda J.)

Have you tried one of our perfumes?
Let us know
how you like it!
You might also like