Al Rehab Taj Al Aroosah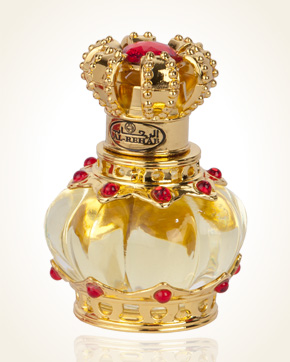 Al Rehab Taj Al Aroosah
Concentrated Perfume Oil 20 ml
In Stock
Concentrated Perfume Oil Sample 0.5 ml
In Stock
Description
The perfume from Al Rehab smells sweetly fruity notes blending with flowers and precious woods.
The introduction belongs to the yellow melon with a gentle touch of green tones, to which is added bergamot with its freshness and takes with it the fruity taste of watermelon. The floral echoes of a flowering cactus at night, freesias and beautiful roses stretch out into raspberries and a luxurious iris with its tenderly woody trail with a sweetish echo. It continues with sandalwood and a soft warm ambergris.
The finish dissolves directly in vanilla dust and the sensual purity of musk.

Customer Reviews (11)
Hello, so after a long peeking I ordered Al Rehab Taj Al Aroosah, not only because of the beautiful fragrance, but also because of the amazing white-gold red flacon.Now me package arrived and flakonku I am disappointed because it does not match the photo in the offer. The bottle is not white but translucent. So I'm pretty disappointed. Have a nice day (19.6.2019 - Monika Š.)

Hello, I recently ordered fragrance samples from you. It's unbelievable, but it's been twenty years since I bought a miniature glass bottle of this fragrance at a world exhibition in the Netherlands. Even more incredible is olfactory memory, because I'm absolutely sure it was just Taj Al Aroosah. If the mental memory was so reliable .... :-) So thank you (18.2.2019 - Martina G.)

Hello, I would like to thank you for the next shipment of fragrant happiness and also for the enclosed formulas - you are an incredible tempter! (take it as a compliment) :-) I haven't scented everyone yet, but I have to pick up the amazing fruit-musk oil Taj Al Aroosah - that's a pity. As I wrote before - I never used fruit fragrances, but this is another piece that will not be missing in my collection. (09/09/2018 - Katka H.)

Today I have received a sample package Al Rehab Taj Al Aroosah and it is a divine fragrance, so I immediately order a large bottle. Thank you all from "Anabis" for being :-) (20.2.2018 - Eva S.)

Taj Al Aroosah - I have been watching this beautiful bottle for about half a year, but I have not ordered a sample once. Only at the last order, when I wondered which perfume I have not tried ... and now that I rubbed where possible, with an oil from the sample, I can not believe that I do not yet !!! Such a beauty !!! The sentence is quite apt: Cold with hot sand at the bottom ... The freshness of melon, bergamot, the coolness of the sensual musk intertwines with the sweetness of raspberries and honey ambergris. And the seductive, stunning glow that really emanates from somewhere deep ... oh yeah, you can't resist! Just sitting here and enjoying myself. I'd forgotten my beloved vanilla playing hide-and-seek with me ... she peeks out and suddenly hides behind a fresh breeze driving hot grains of sand in front of her. The other components escape as I sink into the world of fairy tales and dreaming. Splendor! Arabic perfumes are an endless discovery ... (Aug 3, 2016 - Lenka S.)

Hello, today I received a beautifully fragrant summer fragrance Taj Al Aroosah with a magic bottle - another to the collection. Since (I guess) January it's my 10th great scent from you, plus a few roll-ons and I agree with your other customers that these perfumes are heavily addictive. Have a nice summer and lots of other satisfied customers (8.6.2016 - Ivana P.)

Al Rehab: Taj Al Aroosah (Cold with the hot sand at the bottom). Taj Al Aroosah I tried for the first time one very cold morning, which are now more and more frequent. I was surprised that in these conditions I did not mind the freshness of the scent. I thought about it and decided it was a specificity of Arabian fragrances, that it could cool gently. In contrast, some Western perfumes are penetratingly cold. They usually contain citrus and in the base there is wood that easily takes over their coldness. Sometimes I feel that ice holds them in the winter. I'm not saying that the smells are bad, only we wintery people can use them only in the summer. On the other hand, refreshing Arabic perfumes can be enjoyed even in winter, as the sun is hot under the surface cold. The freshness of the Taj Al Aroosah provides fruit, especially apricots, aromatic melon and a handful of raspberries. They have added roses, violets and freesias that support the sweet and creamy character of the scent. All ingredients are intertwined with a gently shining blend of vanilla, sandalwood, ambergris and musk. It gives the fragrance to the aforementioned lower warmth and I must say that even a strong addictiveness. Taj Al Aroosah is one of the most beautiful Arabic perfumes I have had so far to try. (24.9.2015 - Katka Breakfast in Perfumery)

Taj Al Aroosah oil fulfills both my love - a lot of musky scent and a lot of sweet fruity (probably smells the cherries I found so much, but also raspberry, or exotic fruits, etc.). It smells musky and vanilla and at the same time bright (rich) fruity - probably the raspberry there ?? (Feb 24, 2015 - Iveta W.)

Taj Al Aroosah is a wonderful spring-summer fragrance that you will reach with great taste after winter and bad weather. It brings a feeling of joy, optimism, a fragrant flashlight supplying energy. It welcomes us with a pleasant light juicy sweet and sour introduction reminding me of the bonpari tropical mix. Green tones flicker around the nose to open up a room for a fresh bergamot that spans like an air bridge, which we cross from a fruit plantation to a flower garden. The bright color of the flower beds attracts attention, the narcosis of the freesias is soothed by the elegance of rose and velvety raspberries that pop out nearby. The play of individual tones brings a warm powdery hint of ambergris and fills the floral flood with fluffy lace woven from vanilla and musk. Beautiful feminine appealing fragrance with harmoniously incorporated ingredients, where none stands out above others, with excellent stamina and a charming cloud around its wearer. It is also suitable for the first acquaintance with the world of Arabic perfumes. (May 8, 2014 - Andrea Ž.)

I'm trying and is "dangerously" appealing. And the bottle live, hmm ... (22.3.2014 - Andrea Ž.)


Have you tried one of our perfumes?
Let us know
how you like it!
You might also like