Swiss Arabian Hayaam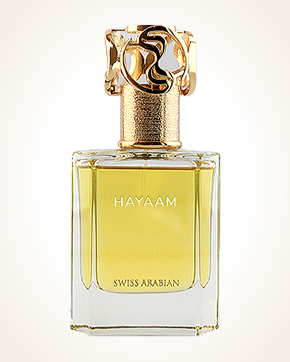 Swiss Arabian Hayaam
Eau de Parfum 50 ml
Out Of Stock
Eau de Parfum Sample 1 ml
In Stock
Notify me when available?
Description
Hayaam belongs to the luxurious Waaw Series, which Swiss Arabian perfumers present uniquely folded premium ingredients, showing the blend of the aroma warp of the Orient and the West.
In Hayaam perfume you can enjoy different shades of skin that intertwine with each other and show their animal bitterness, dusty dryness and woody powder undertones.
The introduction of the fragrant composition is in bitterly dry nuances combined with citrus-fresh aria, which in the company of a warmly spiced nail will turn golden and caress.
Directly exciting connection, showcase the skin with the iris. The precious iris root with a floral sweetish trace embraces the dry skin tone and resonates with the softness of rare woods dominated by mystic-enriched oud essential oil full of contrasts, with an exquisite honey-woven, velvety ambergris. Oud is tame smooth, softly sweet and does not stand out, but highlights varying shades of skin.

Customer Reviews (3)
Even looking at the Hayaam bottle, it is clear that this is a luxury. After opening the beautiful cap and applying your own perfume, a wonderful feeling appears that cannot be easily described. The scent is intense, pleasant and lasts a long time not only on the body, but also clothes and bed linen, be careful here when flying. I warmly recommend. (09/10/2021 - Tomas B.)

I would sum up the initial impression of Hayaam in three words: a freshly shaved guy. Although the guy doesn't stay long and the smell gets a little sweet and powdery, it still has a purely masculine effect on me; perhaps because of the gentle cooling gust that it retains for quite some time. A partner said about Hayaam that he would like men who don't like washing. Though it may not seem so, they are words of appreciation for a great smell. I praise the mysterious variability of Hayaam, which is handled by differently processed skin tones, and the carefully elaborated composition that makes Hayaam very pleasant and harmonious. If you're on the skin (and you don't even have to be a man :-), then Hayaam will very likely like it. (10/17/2019 - Petra P.)

Hayyam - is smoky woody, spicy with a kind of powdery soft touch. She is "arabic" changeable, like a chameleon, I would say she goes into the men's scent, but I would "give it" even in the summer. Stamina again endless. Thanks (8/18/2019 - Marie K.)

Have you tried one of our perfumes?
Let us know
how you like it!
Notify me when available?
You might also like